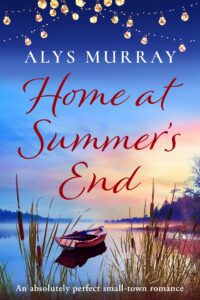 A romantic at heart, Rose is fed up of being nagged by her friends and family about her singleness. Film star Cole is trying to win back his ex while also researching his next role. Set up on a blind date, together they agree to pretend to continue dating but can they keep their agreement professional?
Home at Summer's End is the fourth book in Alys Murray's series but can be read as a standalone story (I have previously reviewed book 2: Sweet Pea Summer).
The style of writing is easy to read and the plot is delivered in chapters from the perspectives of Rose and Cole each in turn. I enjoyed the self reflective, even wry, consideration of romance novels and the tropes used. This includes the fake relationship which this book uses!
I also really liked the part where Cole says he is annoyed by the miscommunication of feelings in romances. I feel exactly the same when I read them! Yet already by this stage, Rose and Cole are battling with their attraction to each other yet setting up their fake relationship pact.
The lead characters are equally likeable and obviously meant to be together, they just need to realise it themselves. The plot develops gently over the course of the book, in the same way that physical attraction leads to love.
Overall, Home At Summer's End is a warm and enjoyable romance. The title makes me think of a beach read but it would be equally good curled up under a blanket in autumn and winter too.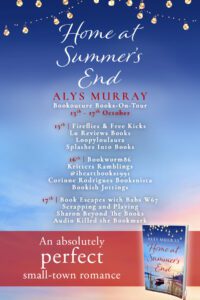 Book Description:
Rose Anderson is done with being known as "the nice one" in the small town where she lives. She's done with playing third, fifth, seventh wheel at loud gatherings on her family's flower farm. And most of all, she is done with the pitying looks she gets about her single status from the way-too-interested townsfolk.
Busy with her flower-arranging business, Rose has no time for a man, thank you very much. And it has nothing to do with the scars she still nurses from her last breakup. So when she meets Cole McKittrick, Rose gets an idea. But first she needs to get beneath his aloof exterior and convince him to agree…
Cole McKittrick is trying to keep calm. So what if he quit a steady job for a shot at his dream, was dumped and his move to Yokel County, California is bringing back childhood memories he'd rather forget? It's all about perspective. He doesn't want to get any more involved in this town than he has to be, so his first instinct is to push Rose Anderson and her intriguing idea away. But the woman won't get gone, and then she makes him an offer he can't refuse.
The two are soon neck deep in deception, playing up a starry-eyed romance in public while they clash wits and wills in private. But Cole has been hiding a big secret from Rose about his past. And when Rose finds out could it spell the end for their picture-perfect romance, or will she realize that he has taken over not just her home, but also her heart…?
A fun, charming romance about family and finding the one, perfect for fans of Robyn Carr, Debbie Macomber and Carolyn Brown.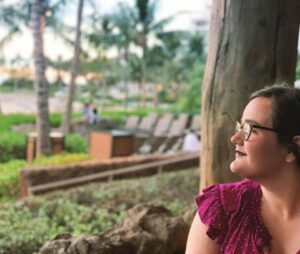 Author Bio:
Alys Murray is an author who writes for the romantic in all of us. Though she graduated with a degree in Drama from NYU's Tisch School of the Arts and a Master's in Film Studies from King's College London, her irrepressible love of romance led her to a career as an author, and she couldn't be happier to write these stories! Currently splitting time between her home state of Louisiana and London, she enjoys kissing books, Star Wars, and creating original pie recipes for all of her books. Tobey Maguire is her Spider-Man.
Buy Links: