May and Tom were high school sweethearts but, on the day they were due to leave town together and travel, May got cold feet and broke up the relationship. Tom went without her but years later came home to take over his family business. The only problem is that no one will buy from him because they think he broke May's heart, an idea that she has done nothing to deny out of fear for her own reputation.
Ooh, this book had my hackles up! I was so angry with the gossip and misdirected anger at Tom thanks to the cowardice of May. I always say it is the sign of a good book when it inspires an emotional response in the reader even if it is a seething annoyance at the unfairness of events! Sweet Pea Summer was a surprisingly quick read, or maybe I just couldn't put it down!
I liked the way that the author doesn't dwell on the romance too much even though it is central to the plot. There is much more depth than most books in this genre as the main protagonists need to accept themselves and block out their community's expectations.
The story of the ill fated lovers is told through a third person narrative but gives both perspectives. Tom is so honourable to have put up with the humiliation caused by May's failure to be truthful. It's a good job that love conquers all as I wouldn't have been so forgiving in his place!
Sweet Pea Summer is actually the second book to feature May's family but works as a stand alone as the main characters are different. It is also the first of Alys Murray's books that I have read but I have already signed up for the next as I enjoyed it so much!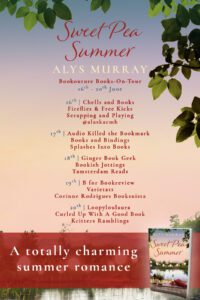 Book Description:
Can you ever really forget your first love?
It's been eight long years since May Anderson's high school sweetheart Tom Riley drove down Main Street in his truck, leaving Hillsboro—and May—in his rearview mirror. Now he's back and, try as they might, the pair can't avoid each other.
As Hillsboro prepares to host the prestigious North West Food and Wine Festival, Tom and May are reluctantly called in to plan the big event. Tom needs May's help to repair his bad-boy reputation and, with the whole town counting on them, May and Tom need to learn to trust each other again.
May is determined to protect her heart, but a lot has changed since high school. She can't help but notice how the skinny boy she used to know is now a man who perfectly fills out his button-down, and Tom can't seem to tear his gaze away from May's sweet smile. It's clear old feelings are surfacing again, but there is a secret keeping them apart and, until they find the courage to face it, their second chance summer will be only that…
A heartwarming story about first love, family and the importance of second chances. Fans of Jenny Hale, Debbie Macomber and Robyn Carr will adore Sweet Pea Summer.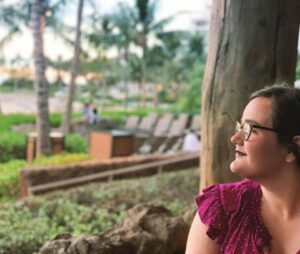 Author Bio:
Alys Murray is an author who writes for the romantic in all of us. Though she graduated with a degree in Drama from NYU's Tisch School of the Arts and a Master's in Film Studies from King's College London, her irrepressible love of romance led her to a career as an author, and she couldn't be happier to write these stories! Currently splitting time between her home state of Louisiana and London, she enjoys kissing books, Star Wars, and creating original pie recipes for all of her books. Tobey Maguire is her Spider-Man.
Buy Links: