Virginia travels for days to answer a small town's call for female inhabitants. She is escaping her past but can she face the future? And will the town of Fortune Springs be part of it?
Small Town Secrets is a stand alone novel from Alys Murray. The book begins with a news report about a town advertising for more women to move there. We then meet a physically and emotionally exhausted Virginia travelling to Fortune Springs. She hasn't filled in the application and sent in advance, instead it is still clutched in her hand. She is hoping she can just turn up at the Bride House and find a home for a year.
The book is written from Virginia's first person perspective. She has obviously escaped a traumatic relationship but the details are only revealed gradually as she softens towards the town's residents. In particular, her heart is nervous of the fire chief Owen who is against the Bride House scheme.
The plot device of the town needing women was an interesting one and Virginia finds friendship and support. The romance with Owen develops gently to allow Virginia's sense of self to heal after the upset of her past relationship. Bride House owner Calla offers a safe place for Virginia to explore her feelings and plan for the future.
The emotional and physical abuse is handled sensitively as we are informed about it gradually. Virginia's behaviour exhibits the aftermath of the abuse: the doubts, fear and a complete breaking down of any sense of self worth.
Small Town Secrets is an emotional romantic novel about self belief and self discovery but also the healing power of love.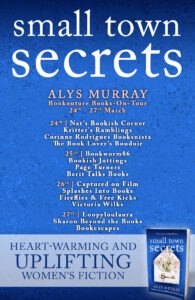 Small Town Secrets book description:
"Young women needed for the Fortune Springs Town Improvement Initiative. One year's room and board provided."
I should have known it was too good to be true when I first saw the ad. It turns out that Fortune Springs, Colorado isn't just a one-horse town, it's a two-woman one, and this is their attempt to keep the community alive. I want to say the scheme is ridiculous, totally outdated, but I'm carrying everything I own in my canvas backpack and the greyhound I stepped off this morning is long gone. If this is my chance at a fresh start, I'd better grab it with both hands.
I know I should feel guilty about pretending to be a lonely heart willing to help repopulate this rural logging town, but all I feel is relief at having escaped the apartment in Savannah. And after all, what's one more secret to add to the pile? I only hope I've hidden my tracks well enough, and that the kind Fortune Springs locals who've opened their doors to me will never find out what made me run away in the first place…
An emotional, gripping story full of family drama. Fans of Carolyn Brown, Robyn Carr and Debbie Macomber will be hooked.

Author Bio:
Alys Murray is an author who writes for the romantic in all of us. Though she graduated with a degree in Drama from NYU's Tisch School of the Arts and a Master's in Film Studies from King's College London, her irrepressible love of romance led her to a career as an author, and she couldn't be happier to write these stories! Currently splitting time between her home state of Louisiana and London, she enjoys kissing books, Star Wars, and creating original pie recipes for all of her books. Tobey Maguire is her Spider-Man.
Buy Links: