Today I have something a little different for you! This blog tour is for two amazing novels by author, Michael McLellan. I will be sharing my review of In the Shadow of the Hanging Tree in addition to excerpts from both books and a giveaway to enter!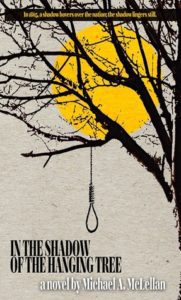 This novel is dedicated to the human race. I fear for us.
This is the dedication at the start of In the Shadow of the Hanging Tree and I must issue a trigger warning before I allow you to read further. The events described in this book and mentioned below are brutal and violent.
How can a book about the repugnant actions of humanity also be so compelling?
Simple.
There are flashes of the innate goodness that also exists within us.
In the Shadow of the Hanging Tree in set in the US in the 1860s. Henry is a black slave who is freed by his master. The woman he loves is murdered shortly afterwards so he also loses his unborn child. John and Clara are a lovestruck couple with feuding fathers so their marriage is refused. John is sent to join the army and Clara runs away to join him. All three characters interact with the Native American tribes who are being incited to war.
The hardships, brutality and downright depravity that are revealed in the book are often horrific. I know very little about this period of history but I believe we should be educated more about it (I'm not sure if this is because I am in the UK or if the shame of mankind's actions at this time have led to it being hushed up).
I admit to feeling uncomfortable with the language used to describe the racial groups in the book, however this also made it more realistic as the terms would have been in regular use at the time the book was set.
Love and loss radiate through this book and author Michael A. McLellan has carefully balanced the destructive nature of humanity with their capacity for kindness, hope in the face of danger and enduring love.
Tragic and heartbreaking experiences and disturbing acts of violence make this book difficult to enjoy but the bravery and strength of the main characters makes it worth reading.
In the Shadow of the Hanging Tree
Publication Date: April 26th, 2017
Genre: Historical Fiction
In 1865 a shadow hovers over the nation: the shadow lingers still…
Born into slavery, Henry's young life is spent working in tobacco drying sheds on Missouri plantations. Freed at the onset of the Civil War, he's alone, starving, and on the run from Confederate militiamen.
Five years later, Clara Hanfield, the daughter of a powerful New York shipping magnate, escapes her tyrannical father and travels west in pursuit of John Elliot, the man she loves. John, a U.S. Army lieutenant, was sent to the Dakota Territory where he discovers a government conspiracy to incite an all-out war with the Indians; a war meant to finally eliminate them as an obstacle to the westward expansion.
Henry finds himself caught in the middle.
Aided by Clara, John, and his native ally, Standing Elk, Henry must battle hatred, greed, and the ghosts of his past during this turbulent and troubling time in American history
Add to Goodreads
Excerpt
Emmet Dawson pulled the crumpled sheets of Henry and Eliza's free papers from his coat and held them close to his face, squinting. "…Samuel Cromwell." He held the papers out. "Can you read these?"

Henry averted his eyes. "No, sir," he lied.

"No, of course you can't. It's not only near to impossible to teach a nigger to read but it's also against the law—God's and man's." He lowered the papers to his side. "These jayhawkers are burning and pillaging their way across our great state. They're murdering innocent Missouri families in their sleep, then setting niggers loose on the land like a pestilence. That boy's an orphan. His father, his mother, and his little baby sister were inside the house when it was set fire. They were unable to escape. We found their niggers a few miles away, riding their horses and leading their pigs just like they had the right to. We are at war, Henry. We are at war to save our families and our way of life."

Emmet turned and looked at Bob. "Hang him with the others."

Eliza let out an anguished wail and dropped to her knees where she began screaming hysterically. Henry tried to kneel down with her but Bob yanked the rope tight and wrapped it on his saddle horn. This left Henry standing at an awkward lean as he tried not to drag Eliza.

"What about the woman?" Bob asked.

Emmet Dawson looked down at Eliza appraisingly. "Shut her up and tie her to my wagon…and here," he handed Bob the free papers. "Pin these to his shirt. There aren't any free niggers in Missouri." He gave Henry a final stony look then walked into the camp.
Available on Amazon
American Flowers
Publication Date: July 7th, 2017
Genre: Contemporary Fiction/ Drama
*Triggers: Addiction, Abuse, Sexual Assault
Nineteen-year-old Chris Shafer and seventeen-year-old Allie Laughton came from similar backgrounds of neglect and indifference. Chris spent his childhood desperately trying to gain his alcoholic parents' love. Allie was dragged through an ugly divorce before narrowly escaping being molested by her mother's new boyfriend.
A chance meeting draws the two together and Allie is quickly caught up in Chris' new-found lifestyle. Plagued by poor choices, Chris sets into motion a chain of events that drags them deeper into the murky world of meth. Ultimately pursued by both the police and Chris' volatile tempered drug dealer, Chris and Allie are forced to confront their only real enemy: themselves.
Add to Goodreads
Excerpt
"You're poison to that girl. You do see that?"

"We love each other and don't want to be apart."

"What do you know about love?" Jan suddenly spat, leaning forward in the easy chair and staring angrily at Chris.

"You listen to me. The only truly unbreakable love is that of a parent for their child. All the other kinds of love, like the kind you and that beautiful young girl in there think you have is fragile and weak, and saddest of all, fleeting. That kind of love can be broken in an instant"—she snapped her arthritis twisted fingers for emphasis, making more of a dry papery sound than a snap. "It can be broken by the smallest of indiscretions, or nothing more than a few poorly chosen words. Mostly it's just worn away over time like the banks of that creek out there. And it'll happen so slowly that you never even feel more than a faint tickle at the back of your mind. Oh, it can burn as hot as blue blazes for a moment, but eventually it burns out and leaves something entirely different behind…like the bed of ashes in the bottom of a woodstove after the fire's gone out. Some folks still insist on calling it love, but it isn't, not really. It's obligation, it's responsibility, it's apathy. Often it just becomes who you are…what you're accustomed to. Sometimes it even becomes hate.
Available on Amazon!
Click HERE for a chance to win a $20 Amazon Gift Card!
About the Author
Michael's love of books began with Beverly Cleary's The Mouse and the Motorcycle when he was seven-years-old. Later influenced by the works of John Steinbeck, Harper Lee, Stephen King, James Baldwin, and Cormac McCarthy, Michael developed his style of storytelling. A self-proclaimed blue-collar writer, he draws on his experiences and observations to bring relevant and compelling topics to life.
Michael lives in Northern California and when he's not writing, he can usually be found wandering around the Sierra Nevada and Cascade mountain ranges.
His body of work includes the 2014 novel After and Again, the 2015 novel American Flowers, and the 2017 novel, In the Shadow of the Hanging Tree, as well as various shorts and essays.
Michael McLellan | Goodreads| Twitter
Blog Tour Organized By: