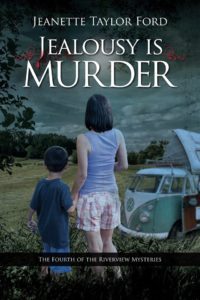 Jealousy Is Murder is the fourth in the River View crime series from Jeanette Taylor Ford. There are many references to previous cases so I believe it would be beneficial to have read those first.
The main detectives are DI Dan Cooke and DS Graham Grant who have a gentle cameraderie. They both have successful homelives and relationships which is quite unusual for police characters!
The case itself revolves around the murder of a young woman leaving her 12 year old son Charlie an ophan on the run to avoid going into care. Charlie's plight is heart wrenching to read and you'll be relieved to know he has a happy ending! The recent murder is soon linked to an old murder case that resulted in the conviction of a criminal who swore his innocence.
Mainly set in Hereford, the case developments involves several other areas of the UK including Portsmouth and Scotland. Dialogue is written in a style to represent the accent of the speaker and this helps to establish them as individuals.
I enjoyed this book but was a little confused by the references to past events in books that I had not read. There were also lots of characters, almost too many for my liking. I expect that most of them had been introduced previously and then there were the new ones specific for this murder investigation.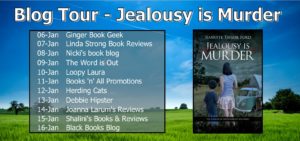 Jealousy is Murder (River View #4) by Jeanette Taylor Ford
When a young woman is found strangled in her camper-van and her twelve-year-old son goes missing, DI Cooke and DS Grant have a dual problem on their hands. And what does this murder have to do with the fatal stabbing of a young man in Portsmouth several years before? And how on earth are residents of Sutton-on-Wye involved?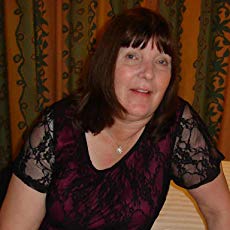 Jeanette Taylor Ford – author bio
I'm a lifetime bookworm! From reading to my children to now creating stories of my own, books have always been a large, important part of my life. Those who have read my stories have enjoyed them, so I finally decided to inflict them upon the world in general. Some of them are ghostly tales, combined with loveable characters and interesting situations which make them ghost stories with a difference. However, I also write children's stories, the first of which, 'Robin's Ring' is published and I'm working on another Robin story. My new series, The River View Series, presents mild mysteries with a difference – and are set in my beloved Herefordshire.
Much to our youngest daughter's disgust, I love old buildings, castles, mansions, historical places, especially ruined buildings and they are often the inspiration for my stories.
My retirement from my job as a teaching assistant has given me the opportunity to indulge my love of writing and I ask for no more than to give pleasure to my readers. When not writing, I'm making cards, singing in a ladies' choir, doing Family History and all sorts of other things. I am married to Tony, a retired teacher, and we have six children and seven grandchildren. We live near Nottingham, England.
LINKS