Nic and Colm enjoy an evening out but wake up in a deserted cottage, chained up and covered in cuts and knife wounds. Nic manages to daringly escape and tries to help the police find Colm. But her captor has a violent past and a cat-and-mouse game ensues. Can Nic ever really escape his clutches?
Knife Edge is the debut crime novel from Kerry Buchanan. Although this seems to be the first book in a series about police officers Asha Harvey and Aaron Birch, the lead character of this book is undoubtedly Nic. She is courageous despite the danger she has faced and is determined to help the police.
I had to suspend my disbelief as I became embroiled in the compelling plot. The lead that Nic takes felt unrealistic but was certainly dramatic and it was enjoyable to watch events unfold. There are some chapters written from The Slasher's perspective. This increases the tension and anticipation as we predict what he might do next and the danger it would place characters in.
The main investigating officers were not too prominent in the plot. There was an enjoyable banter between Asha and Aaron that I hope will be developed in subsequent books. However, I enjoyed the quite unique angle of focusing on the victim in a police procedural novel. The ending saw my jaw drop…
Knife Edge is a police crime novel full of thrills and tension. I look forward to seeing how the detectives develop.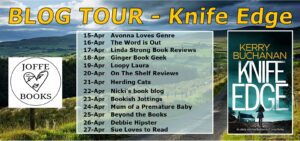 Knife Edge by Kerry Buchanan
A MESMERIZING BREAK-OUT CRIME THRILLER SET IN NORTHERN IRELAND FULL OF BREATH-TAKING TWISTS
Nic always hated clubbing.
She only went out that night because she'd promised a friend.
She wakes up, naked and bound in an abandoned cottage in the middle of nowhere. Dappled light comes in through a dirty window. Her body is covered in cuts. Across the room her friend groans in pain.
A shadow passes the window. He's back.
He picks up a knife. He begins to cut her friend. In that moment of bloody frenzy, Nic wrenches free and runs.
She's finally safe. But this is only just the beginning.
Detectives Asha Harvey and Aaron Birch arrive at the scene hours later. There is no body, there is no sign of the killer. It's as if it never happened.
YOU THINK YOU KNOW HOW IT ENDS? THINK AGAIN.
Fans of Lynda La Plante, Tana French, Patricia Gibney, Brian McGilloway and Helen H. Durrant will devour this electrifying crime thriller by one of Northern Ireland's newest talents.

KERRY BUCHANAN
Kerry Buchanan has had numerous short stories published internationally, including some prize-winners, but her heart lies with novel-writing. Her crime series is set in Belfast and in the rolling County Down hills she sees from her window as she writes. She is often invited to perform her work at literary events or to be a member of panels at conventions, and she loves to help new writers by facilitating writing groups and classes in her local community.
Although Kerry is disabled, her hobbies include sailing and attempting to outwit the slugs in her vegetable patch. Generally, the slugs win.
BOOKS BY KERRY BUCHANAN
COMING SOON!
FOLLOW KERRY ON