Josie and Noah are heading back from their honeymoon when they see a teenaged girl running across the road. They pull over and find another girl being murdered. The perpetrator runs away so the detectives are hunting for the missing teen and her attacker…
Local Girl Missing is the 15th book to feature Josie Quinn, her new husband and colleague Noah, and the rest of their police department.
The majority of the book is set in the present day and focuses on Josie and the investigation. However there are some chapters showing a little girl's experiences growing up. Gradually we get clues as to how this connects to the case.
Josie is thoroughly frustrated with the lack of cooperation from the missing girl and her attacker. Both are keeping secrets, fearful for their lives, but this only serves to prevent Jodie and her team from making any progress in the case.
The pace of plot developments is fast and furious as always. There is plenty of drama and fans of the series will enjoy how Josie and Noah throw themselves into danger. Now there is an extra tension as they are married so need to keep their personal feelings separate whilst they fulfil their professional roles.
Local Girl Missing is a solid addition to the series and I look forward to the next book.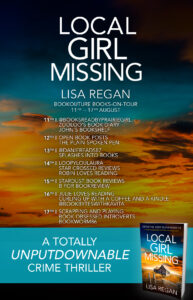 Media Pack Info Sheet:
Title:         Local Girl Missing
Author:     Lisa Regan  
Publication Day: August 11th 2022
Buy Links :
Audible:
Description:
Through swirling dawn fog, they follow the trail of discarded items at their feet: a tube of glittery lip gloss; a cell phone; a cracked make-up compact, broken chunks of ivory powder spilling into the grass. Then the mist parts—just for a second—to reveal a beautiful young girl on the ground, her pale lips frozen forever in a silent scream…
On a winding mountain road into the small town of Denton, Pennsylvania, Detective Josie Quinn finds the body of a local teenage girl, Dina Hale. The sight of plum-colored bruises gathering around the girl's neck pierces Josie's heart, but the discovery of a second girl's empty purse in the dirt nearby gives her a flicker of hope that one person, at least, made a lucky escape.
Dina's parents are grief-stricken as the town rallies together in a desperate search for the second girl, Alison Mills, who waitressed with Dina at a local hotel. The two best friends were on their way to a shift when they were attacked. Josie was too late to save Dina, but she won't rest until Alison is home safe.
Hitting a dead-end with interviews, Josie thinks she's on to something when a photo surfaces suggesting Alison was romantically involved with one of the hotel staff. But when Josie arrives at the man's house to find a bullet in his head, and the house ransacked, the case comes crashing down.
Evidence of frantic searching at both crime scenes has Josie convinced a twisted killer is on a hunt for something very personal and precious. And that they won't stop until they find it. But how many innocent lives will be destroyed before Josie can uncover the missing piece at the heart of this deadly puzzle? And what sacrifices will she have to make to find Alison alive?
An absolutely unputdownable crime thriller from an Amazon, USA Today and Wall Street Journal bestselling author. Perfect for fans of Angela Marsons, Robert Dugoni and Rachel Caine. WARNING: will keep you up all night flipping pages until dawn!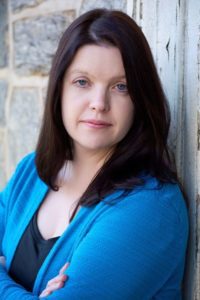 Author Bio:
Lisa Regan is the USA Today and Wall Street Journal bestselling author of the Detective Josie Quinn series. Lisa is a member of Sisters In Crime, International Thriller Writers, and Mystery Writers of America. She has a Bachelor's Degree in English and Master of Education Degree from Bloomsburg University. She lives near Philadelphia, Pennsylvania in the U.S. with her husband, daughter, and Boston Terrier named Mr. Phillip. Find out more at her website: www.lisaregan.com
Author Social Media Links: