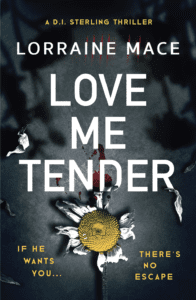 DCI Paolo Sterling has just been promoted but has trouble at work with a disgruntled colleague who has the ear of their superior. Their drugs case has stalled and then a murder is discovered and another woman vanishes. The pressure on Sterling is intense…
Love Me Tender is the fifth book in the police thriller series by Lorraine Mace. It is the first book I have read by this author and works perfectly well as a standalone novel. There are references to events in the past but they are easy to follow if you haven't read the previous books.
Paolo is grieving for a colleague who recently died, the nephew of his boss. He blames another colleague for goading Dave into taking the risks which ended his life but Jack has endeared himself to the boss. This creates huge amounts of tension within the team. Meanwhile Paolo has a positive relationship with his ex wife and they are both concerned about their daughter volunteering abroad.
At the start of the book, the team are investigating drugs at a nightclub without much success. But a murder victim is found and then her best friend is abducted and there is a link between the suspects and the club. It becomes a race against time for Paolo to find the missing woman.
Some of the book shows the murderer's perspective. We see the abuse he suffered at the hands of his grandfather and how this has caused his skewed thinking about love and relationships. This caused me mixed emotions as I pitied his life as he is desperate for love and affection but couldn't condone his actions.
Love Me Tender was a gripping police thriller and I want to catch up on the previous books in the series.
Love Me Tender book blurb
IF HE WANTS YOU . . . THERE'S NO ESCAPE.

A brutal murder . . .
Responding to a tip-off, newly promoted Detective Chief Inspector Paolo Sterling arrives at an apartment block to find the dismembered body of a young woman. And with no indication of a break-in, all signs suggest the killer was known to her.
An abduction in plain sight . . .
Then the victim's friend is snatched with no witnesses and the unanswered questions mount up.
At the same time, Sterling's team are leading the surveillance of a local club, thought to be involved in a drug operation. But when one of his colleagues ends up in hospital close to death, Paolo begins to lose his grip.
A detective on the edge . . .
With the odds stacked against him, and time running out, can DCI Sterling uncover the truth before it's too late? Or will this case finally tip him over the edge?
Author Bio – Born and raised in South East London, Lorraine lived and worked in South Africa, on the Island of Gozo and in France before settling on the Costa del Sol in Spain. She lives with her partner in a traditional Spanish village inland from the coast and enjoys sampling the regional dishes and ever-changing tapas in the local bars. Her knowledge of Spanish is expanding. To stop her waistline from doing the same, she runs five times a week.
Author of the D.I. Sterling series of novels, Lorraine has been engaged in many writing-related activities. A columnist for Writing Magazine, she has recently stepped down from writing two columns for Writers' Forum and also her role as head judge of the magazine's monthly fiction competitions in order to concentrate on her own writing. She is currently writing two standalone psychological thrillers for Headline Accent.
She also runs her own private critique and author mentoring service.

Social Media Links –