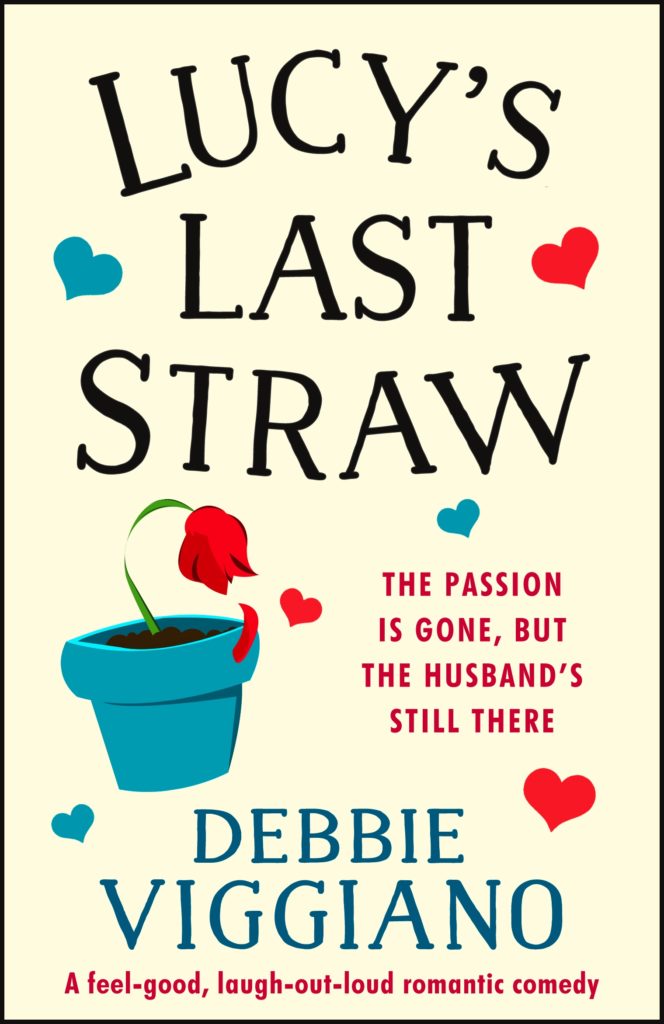 Lucy is 49 and menopausal. She is also hysterically funny and deeply frustrated by her husband Leo. Her children have flown the nest and her husband announces he is being made redundant and want to downsize.
Lucy longs to stay in the house in which she raised her children but reluctantly agrees with Leo. They move into a much smaller cottage that needs lots of renovation work.
Enter gorgeous builder Will and exit Leo who heads off to America for a new job, leaving Lucy in charge of the building work with handsome Will for company…
This is a funny book and the writing is very natural. I loved the inclusion of Lucy's drunken rambles and saucy daydreams. How fantastic to have an older woman as a lead characer and make her funny and sassy. I really hope I'm like her in 10 years time, but could do without her husband's toothpaste (in my house it is the children who get toopthpaste everywhere!)
I felt so incredibly angry with Leo for almost tricking Lucy into leaving her beloved home and then abandoning her while he chased his own ambitions. I could also see his point of view but the way Debbie Viggiano writes Lucy's characters set us as readers firmly on her side.
Lucy's Last Straw has a real mix of laughter and love as well as grief and angst at the changes. It is very easy to get swept along with the plot and characters in this light-hearted read. I think Leo needs to read my blog post about the work of being a wife and mother so he appreciates Lucy a bit more (or maybe he does by the end but I'm not spoiling the conclusion of the book for you!)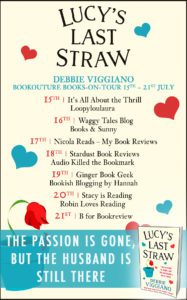 Title:  Lucy's Last Straw     
Publication Day: 15/07/19
Author:  Debbie Viggiano  
Buy  Links:      
Description:
It was the toothpaste smeared around the sink that broke my marriage. As I rubbed it away AGAIN, I was reminded of everything else I've put up with these twenty-five years. My husband's obsession with his pension, his ability to charm me into every single one of his ideas, never being taken on a romantic date, let alone ravished on the patio (like the woman who lives next door)… small things, but the realisation was huge. 

Just when Lucy Jones thinks her marriage is about to screech to a halt over toothpaste, her husband, Leo, announces he wants to move to tumbledown (clapped-out) Rose Cottage, and Lucy knows she'll be the one managing the renovations.

Then along comes gorgeous builder Will, ten years younger and the only person actually listening to Lucy. His twinkly eyes and blowtorch smile are causing Lucy to break out in a hot sweat – but is it love, lust or simply dodgy hormones that are causing her heart to flutter?

Lucy loves her husband, but everyone knows that little things build up. And then they explode. Can Lucy keep it together, or will there be one last straw she might not be able to get over?

A laugh-out-loud romp with an ending that will make you gasp! Perfect for fans of Tracy Bloom, Sophie Kinsella and Dawn French.
 
Author Bio:
Prior to turning her attention to writing, Debbie Viggiano was, for more years than she cares to remember, a legal secretary. She lives with her Italian husband, a rescued pooch from Crete, and a very disgruntled cat. Occasionally her adult children return home bringing her much joy… apart from when they want to raid the fridge, or eat her secret stash of chocolate. Follow Debbie's (intermittent!) blog: www.debbieviggiano.blogspot.com Tweet @DebbieViggiano or look her up on Facebook!
Author Social Media Links: