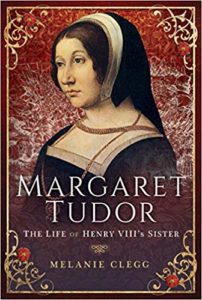 It has been a while since I read a history non fiction book. My degree is in History and I love the Tudor period so was thrilled to discover a new insight into the life of Margaret Tudor. She is the sister to Henry VIII who became the Queen of Scotland and whose great grandson was James I who united the two countries.
When I downloaded this book, I didn't actually know if this was fiction or non fiction. The narrative is very familiar and easy to read, unlike some of the history tomes I have read in the past. Melanie Clegg's turn of phrase is humorous at times and really engages the reader in the dramatic events she describes.
Like many books about women in history, there is much supposition in this book as the lives of women were not well recorded, even queens. I have read some books in which this has been hugely frustrating. However, this book has such good readability that it doesn't feel repetitive as the author makes suggestions which seem realistic.
Margaret Tudor is brought back to life with rich descriptions of events and Melanie Clegg does well to suggest the emotional reality that faced the girl who became Queen of Scots aged only 14 and was widowed at 23 years old thanks to war with England and her own family.