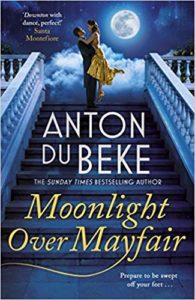 I was absolutely thrilled to be offered the chance to review Anton du Beke's new novel Moonlight Over Mayfair. I admit to reading the first chapter in Anton's voice but soon got over my adoration and enjoyed the book for its own merits.
Set in the magnificent Buckingham Hotel in the 1930s, it is full of diverse characters and plotlines. Nancy Nettleton is anxiously awaitng the return of her love Raymond who is visiting his mentor in Hollywood. Meanwhile, she finds herself embroiled in upper class Vivienne Edgerton's scheme to help the less fortunate of society.
Helene Marchmont is struggling to deal with widowhood and the support of her mixed race daughter. At the same time she develops a relationship with Irish businessman Arthur Regan who is challenging the anti-Irish sentiment prevalent at the time. Du Beke is not afraid to discuss the racial inequalities and political situations that existed in the 1930s and beyond.
As an historian, I loved the insight into the 1930s London in the period of the coronation of King George VI and the lead up to the Second World War. The book evokes the same nostalgia as Downton Abbey and Gosford Park, and I could easily imagine this to be made into a Sunday night series.
Dance obviously features heavily and in this book, Raymond brings new trends from America such as the jitterbug whilst also enjoying the traditional dances of the ballroom. This emphasises the period of change that Moonlight Over Mayfair encompasses.
There is a real mix of characters and personal situations. Class differences, nationality clashes, love and loss, career aspirations and family all feature in the character development. Continuity and change are key themes throughout the book and I felt that Anton du Beke treats these subjects sensitively.
There are some references to events in the recent past and it was only midway through that I discovered through Google that Moonlight Over Mayfair is actually a sequel; it therefore works perfectly well as a stand alone novel.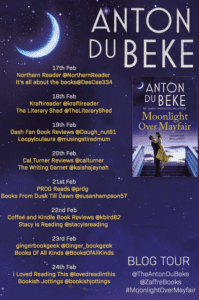 About Moonlight Over Mayfair:
London, 1937.
With a new king in place, tensions are rising in London and across Europe. Shaken by the Great Depression and with talk of another war coming, the Buckingham Hotel is trying to regain some stability.
Upstairs, Vivienne Edgerton is desperate to do something worthwhile with her time and her stepfather's money, rather than spending it on frivolity and debauchery – but will this land her in even more trouble?
And downstairs, chambermaid Nancy Nettleton is finally starting to feel more settled at the Buckingham, and hopes her brother will soon call London home, too. But she misses the man she loves, demonstration dancer Raymond de Guise, who is noticeably absent from the Grand Ballroom dance floor.
The staff and guests of the Buckingham soon discover that in a hotel full of secrets, there's always someone listening . . .