A newcomer to the village wants to open a hostel but most of the community are against the idea. Someone ends the plan once and for all by killing Percy. Flora and Jack begin to investigate as they genuinely liked the victim but are they putting themselves in danger?
Murder at Abbeymead Farm is the 6th book in the Flora Steele cosy murder mystery series. There are some mentions of events from previous books but no spoilers about the criminals' identities.
Percy Milburn had a dream to build a hostel but this had made him enemies, one of whom is prepared to kill. Meanwhile, Flora's bookshop and home are targeted and she fears this could be a warning that her life is in danger too.
The book is written in the third person as we observe the amateur sleuths' investigation. Once again the author has researched the 1950s well to bring the village and characters to life. Flora and Jack are still constrained by the time period and the social norms.
There are suspects, motives and red herrings aplenty so the mystery is maintained well. The attacks on Flora add an extra level of danger and tension (I was horrified that anyone could destroy books!)
Murder at Abbeymead Farm is an enjoyable cosy murder mystery.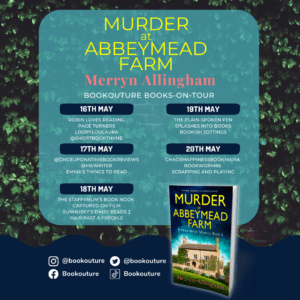 Book Description:
Amateur detective duo Flora Steele and Jack Carrington have gained a reputation for crime-solving. But will they be able to untangle the latest baffling murder in the cosy village of Abbeymead?
Sussex, 1957: When Flora and Jack hear that Percy Milburn – a newcomer to the area who has ruffled more than a few feathers with his grand plans for modernising Abbeymead – is missing, they're determined to find him. But after scouring the village, Flora is shocked to discover the body of the poor man in the cellar of a crumbling farmhouse.
Percy's murder is tragic but not unexpected, as his ambition had made him many enemies within the small, rural community. Flora and Jack get stuck into the case, but they're sent on a wild goose chase around the village. Whoever is behind the death has taken careful steps to cover their tracks…
Was it Miss Minnie Howden, the nervous housekeeper who loved Percy? Sir Frederick Neville, the owner of the farm Percy was trying to buy? Or Colin Palmer, made rich by Percy's death? Did any of the suspects dislike Percy enough to end his life?
The amateur detective duo finds themselves outfoxed at every turn, unable to find any concrete clues. When their prime suspect is murdered, Flora and Jack have their work cut out to find the culprit. But the clever killer has pulled the wool over their eyes and is reeling them ever nearer to danger.
Will this case finally bring Flora and Jack closer together? And can they unravel the mystery before they're led like lambs to the slaughter?
A completely addictive cozy crime novel set in the fictional Sussex village of Abbeymead. Perfect for fans of Agatha Christie, Faith Martin and Joy Ellis!
Author Bio:
Merryn taught university literature for many years, and it took a while to pluck up the courage to begin writing herself. Bringing the past to life is a passion and her historical fiction includes Regency romances, wartime sagas and timeslip novels, all of which have a mystery at their heart. As the books have grown darker, it was only a matter of time before she plunged into crime with a cosy crime series set in rural Sussex against the fascinating backdrop of the 1950s.
Merryn lives in a beautiful old town in Sussex with her husband. When she's not writing, she tries to keep fit with adult ballet classes and plenty of walking.
Buy Link:
You can sign up for all the best Bookouture deals you'll love at: http://ow.ly/Fkiz30lnzdo