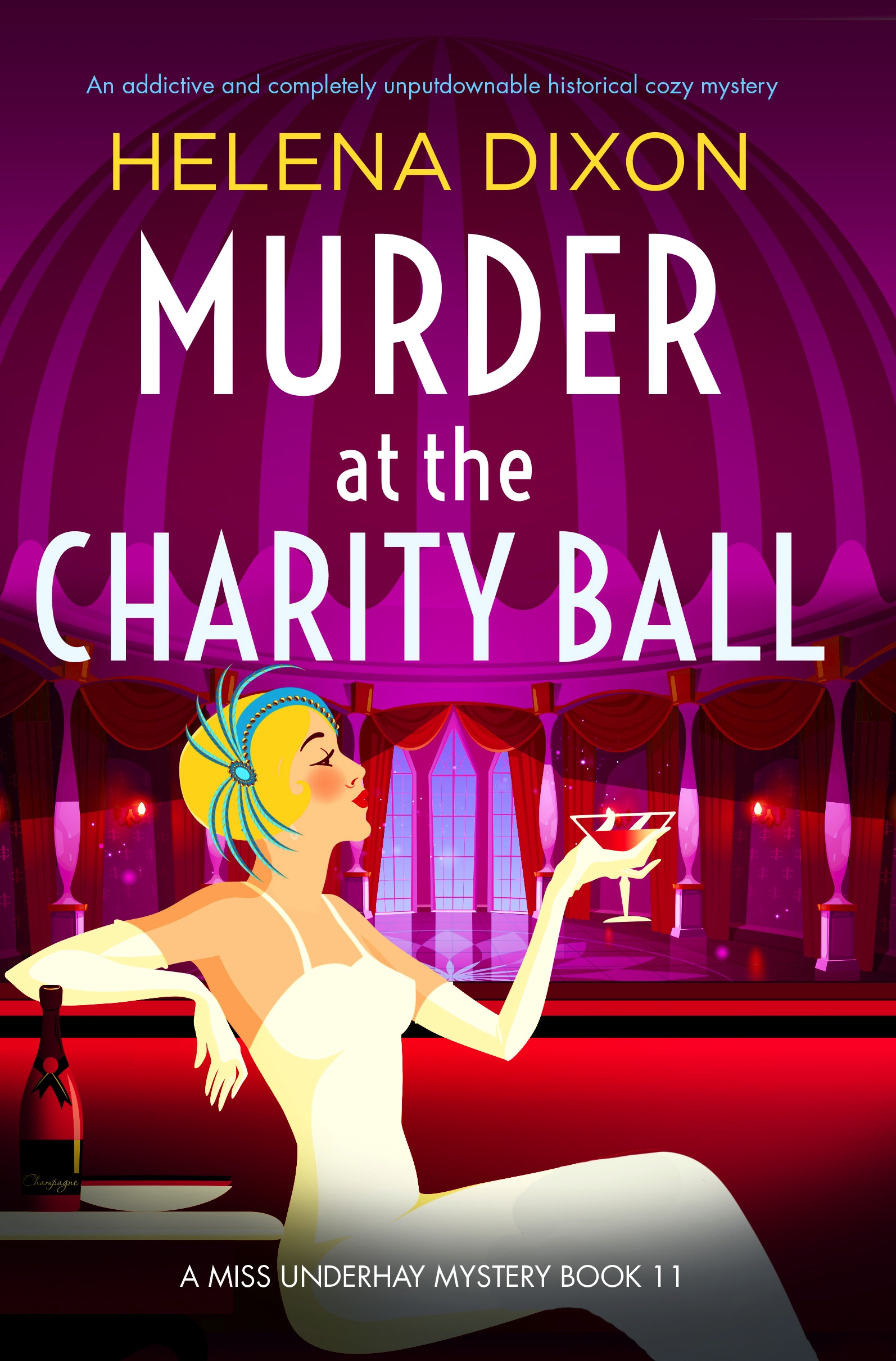 It's the lead up of Christmas 1934, but more importantly… Kitty and Matt's wedding! Kitty's father Edgar has come over from New York and they reunite at a charity ball. Later that evening the host is found dead and Edgar is the main suspect for murder…
Murder at the Charity Ball is the 11th book in the cosy murder mystery series featuring Kitty Underhay and her private investigator beau Matthew Bryant. It can be read as a stand alone book but there are personal plotlines about their romance and her mother's death which have weaved through the series.
Kitty and Matt are looking forward to tying the knot. Lady Eliza Foxley struck up a friendship with Kitty's father on the boat from America and invited him to stay at her home. Now she is dead, strangled with one of her own stockings, and Edgar is discovered standing over the body. Kitty is convinced of her father's innocence but needs to persuade the police that other suspects had motive and opportunity.
There are plenty of twists as other characters are in danger and the police scramble to catch the killer. Meanwhile, Kitty is suspicious of her father's behaviour but doesn't believe it relates to murder. The peripheral characters in the series continue to add some light relief. Kitty's grandmother and her formidable friends Mrs Craven provide some gentle humour due to their old fashioned attitudes. Kitty is thoroughly modern with fresh ideas about gender and class for the 1930s.
Murder at the Charity Ball is an enjoyable addition to the series especially as we celebrate a wedding!
MEDIA PACK
Book: Murder at the Charity Ball
Author: Helena Dixon
Pub Day:  January 20th 2023
Buy Link(s):
About the Book: 
Kitty Underhay is dancing… with death.
Winter 1934. 
Kitty Underhay

 is enjoying a night off from wedding planning as she attends a charity ball at the home of Lady Eliza Foxley. She's excited to see her father, roguish Edgar Underhay, who is also a guest in the house. But the evening of cocktails and waltzing turns into a dance macabre when Edgar finds their lively, fun-loving 

hostess dead, strangled by her own silk stocking

.
Who has made this uncharitable donation to the evening's entertainments? When suspicion falls on Edgar and he is arrested for murder, Kitty has to act fast if she doesn't want her father walking her down the aisle in shackles. Together with her fiancé Matthew, they vow to clear Edgar's name and discover 
who used hosiery to commit homicide

.
Lady Eliza's widowed sister is the main beneficiary of her will, but before Kitty and Matt can question her, she is struck down by a severe case of poisoning. Time is running out for Kitty to solve this case and make it to the church on time. But with a devious killer on the loose, 
will she end up leaving as a newlywed, or newly dead…?
An absolutely addictive and unputdownable Golden Age cosy murder mystery full of twists! Perfect for fans of Agatha Christie, T E Kinsey and Lee Strauss.

Author Bio
Helena Dixon splits her time between the Black Country and Devon. Married to the same man for over thirty-five years she has three daughters, a cactus called Spike, and a crazy cockapoo. She is allergic to adhesives, apples, tinsel and housework. She was winner of The Romance Prize in 2007 and Love Story of the Year 2010 as Nell Dixon. Helena now writes historical 1930s set cozy crime.
Social Media