Julia enjoys attending the pub quiz but is shocked when two members of her team are involved in a hit and run and then one is stabbed to death. The deceased, Lilian, was a police officer so could someone have borne a professional grudge or was there a more personal motive…?
Murder at the Inn is the 4th book in the Julia Bird cosy murder mystery series.
Julia needs to get sleuthing again when a police officer is stabbed. Lilian's colleague Hayley was badly injured in the prior hit and run incident so is bitterly frustrated that she cannot investigate the death of her friend. Lilian was investigating a series of arson attacks, an old adversary had been released from prison and Lilian had recently separated from her husband. Plenty of suspects and motive!
Julia's attempts at investigating are hampered by the lead police officer who is deliberately trying to exclude her and Hayley from the case. I liked the tension this created and the ensuing tenacity that Julia displays. The case isn't straightforward and more deadly deeds change the direction of the investigation.
There is a lightheartedness in the tone of the book despite the murderous content. Several personal subplots have been included to counterbalance the murder mystery. Julia's dog Jake forms an attachment with one of her hens, her ex husband announces he wants to remarry and her current boyfriend has another admirer.
Murder at the Inn is an enjyable cosy murder mystery.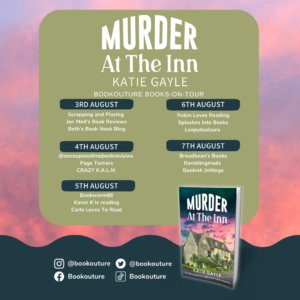 Book Description:
Julia Bird loves the village pub quiz, but it seems one of her team won't make it to the next round alive…
On the first Tuesday of each month, Julia Bird and her Agatha Quizteam teammates take part in Berrywick's village pub quiz. They take it seriously – what's the point of playing, after all, if you aren't in it to win it? But it seems someone connected with the quiz night has taken the competition to a whole new level when Lilian, the local police constable and all-round general knowledge expert, is found fatally stabbed after the evening's final round.
With local DI Hayley Gibson stuck home with a broken leg and an incompetent Superintendent brought in from the nearby town, it's up to Julia to make sure the investigation stays focussed – whether they like it or not! While the police are convinced that the murderer is linked to Lilian's professional life, Julia turns her amateur sleuthing eye to suspects much closer to home. Perhaps Lilian's personal life could have something to do with the dreadful crime?
When another quiz team member is attacked, Julia is finally put on the right track. But what could possibly be important – or dangerous – enough for two attendees of the pub quiz night to meet such foul ends over? Could the culprit really be among them on that busy Tuesday night? As Julia's race to identify the killer ramps up to desperate heights, she wonders, where will the murderous spree end?
Perfect for fans of M.C. Beaton, Faith Martin and Betty Rowlands, Murder at the Inn is a brilliantly compelling English cosy mystery.

Author Bio:
Katie Gayle is the writing partnership of best-selling South African writers, Kate Sidley and Gail Schimmel. Kate and Gail have, between them, written over ten books of various genres, but with Katie Gayle, they both make their debut in the cozy mystery genre. Both Gail and Kate live in Johannesburg, with husbands, children, dogs and cats. Unlike their sleuth Epiphany Bloom, neither of them have ever stolen a cat from the vet.
Buy Link:
You can sign up for all the best Bookouture deals you'll love at: http://ow.ly/Fkiz30lnzdo