Kitty and her new husband Matt are trying to recover emotionally and physically after their last involvement with a murder case. They go on a late honeymoon, staying with Matt's aunt. But death is never far away from the pair and during a day out at the village fair, they discover a body and are called upon to investigate…
Murder at the Village Fair is the 13th book in the Kitty Underhay series set in the 1930s. There are mentions of events in previous books but no spoilers about the crimes or criminals.
Kitty and Matt are still getting used to married life and are grateful to have survived their last involvement in a murder case. But their private investigator skills are needed when a woman is poisoned at the village fair and the host calls upon the pair to prove his own innocence by catching the real killer.
There are plenty of suspects as potential motives are revealed. Little clues and connections between characters need to be investigated to determine the relevance to the case. I was kept guessing, suspecting everyone at some point or another! Kitty and Matt have a supportive lead detective and develop a mutually respectful professional relationship. I also enjoyed the inclusion of Matt's aunt who is a fab character alongside their dog Bertie for some gentle comedy.
Murder at the Village Fair is an entertaining cosy historical murder mystery.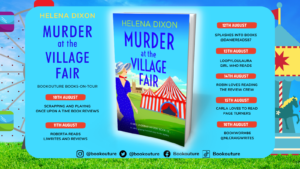 MEDIA PACK
Book: Murder at the Village Hall
Author: Helena Dixon
Pub Day:  August 10th
Buy Link(s):
About the Book:
Kitty Underhay is riding a carousel… with death.
Summer 1935. Enjoying a belated honeymoon visiting her new husband Matt's family in the rolling Yorkshire hills, Kitty strolls through a village fair. But when Kitty persuades Matt to visit the fortune teller's tent, the lovebirds are shocked to find the body of Madame Zaza slumped over her crystal ball, pearl necklace askew and a half-drunk cup of tea at her elbow.
After predicting so many of the villagers' misfortunes, how did she not foresee her own murder? From a pompous old colonel to a reticent reverend and a dodgy village doctor, Kitty soon feels like half the village had a motive for murder. But with more suspects than tarot cards, she and Matt are no closer to finding the culprit.
Madame Zaza had been a part of the community's life for decades and discovering a photograph album of the villagers through the years gives Kitty and Matt the breakthrough they've been searching for. Kitty is soon hot on the killer's trail when her sleuthing puts her in terrible danger. Will her lucky stars align, or is her life line about to run out?
An utterly sensational and addictive Golden Age murder mystery. Perfect for fans of Agatha Christie, T.E. Kinsey and Lee Strauss.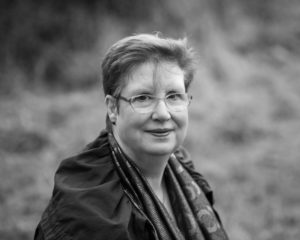 Author Bio
Helena Dixon splits her time between the Black Country and Devon. Married to the same man for over thirty-five years she has three daughters, a cactus called Spike, and a crazy cockapoo. She is allergic to adhesives, apples, tinsel and housework. She was winner of The Romance Prize in 2007 and Love Story of the Year 2010 as Nell Dixon. Helena now writes historical 1930's set cozy crime.
Social Media