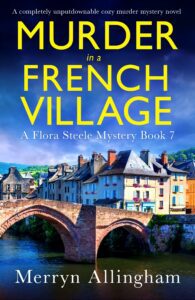 Flora and Jack head to France in response to family matters. She believes she might have finally identified the location of her parents' graves and he is summoned by his mother who thinks her friend was murdered in her stead.
Murder in a French Village is the 7th book in the Flora Steele cosy murder mystery series set in the 1950s.
Both of our main protagonists have family issues at the forefront on their minds. Flora's parents died in a car crash in France but she has never been able to say a final goodbye at their graveside. Jack's mother saw her new friend killed in a hit and run but thinks she may have been the intended victim as someone also tampered with her pills.
We met Jack's father in an earlier book and his relationship with his mother is just as fraught. Sybil is quite self centred and often difficult to like. Her new relationship with an Italian count has been unpopular with his daughters and ex wife so she suspects they may be trying to get rid of her.
The change in setting, new characters and relationship progress provides a refreshing dynamic. Jack and Flora move from Paris to the French countryside as they investigate their family mysteries. They are comfortable and confident with each other and I couldn't help wanting their romance to warm up a bit quicker.
Murder in a French Village is an enjoyable cosy murder mystery.
Book Description:
Join bookshop owner Flora Steele and handsome writer Jack Carrington as they set off on a French adventure and solve a chilling crime!
Jack is stunned to receive a call from his estranged mother, Sybil, asking him to drop everything and come to France. Together with Flora, his fellow sleuth, they pack their suitcases, dreaming of fragrant lavender fields and freshly baked pain au chocolat. It's only when they arrive that they discover the shocking truth – Sybil's friend was killed on a street in Paris, and she is desperate for their help.
The case leads them to a picturesque village in the south of France where life should be rosé, but even the bright blue skies can't hide the fact that something is very wrong. And the mystery only deepens when Flora discovers that Sybil was in fact the intended target. Who would want her out of the way?
Perhaps Sybil's relationship with wealthy Italian count Massimo Falconi has something to do with it. His darling daughter Allegra, ruthless business partner Pascal and his jealous estranged wife Isabella all have reasons for revenge…
Then when another person in the small French town dies in suspicious circumstances, Flora is convinced the two untimely deaths must be connected. Just when the case seems impossible to crack, a chess box provides an unlikely clue.
Can Flora discover the truth before Sybil meets her end? Or could trouble in paradise spell a final au revoir for the detective duo?
A completely addictive cozy crime novel. Perfect for fans of Agatha Christie, Faith Martin and Joy Ellis!
Author Bio:
Merryn taught university literature for many years, and it took a while to pluck up the courage to begin writing herself. Bringing the past to life is a passion and her historical fiction includes Regency romances, wartime sagas and timeslip novels, all of which have a mystery at their heart. As the books have grown darker, it was only a matter of time before she plunged into crime with a cosy crime series set in rural Sussex against the fascinating backdrop of the 1950s.
Merryn lives in a beautiful old town in Sussex with her husband. When she's not writing, she tries to keep fit with adult ballet classes and plenty of walking.
You can sign up for all the best Bookouture deals you'll love at: http://ow.ly/Fkiz30lnzdo