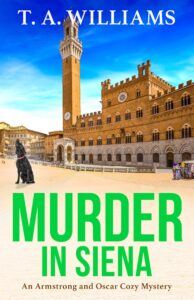 Retired police officer Dan Armstrong is on hand when a man is killed. At first, it seems that wolves were responsible but forensics prove that a human killer is to blame. Dan is assisted by his own four legged pal Oscar the labrador but can they catch the killer…?
Murder in Siena is the 4th book to feature Dan and Oscar but the first that I have read. There are mentions of previous cases which I presume featured in earlier books.
Dan is woken by a wolf howling to the moon and then a body is discovered. But the murder was definitely a result of human actions. There is a complex web of relationships for Dan and the police to unpick to determine the motive and therefore the culprit. I did find it a little complicated but then life and love are both complicated!
The book is described as a cosy mystery which surprised me as I thought it was more of a detective novel initially. There isn't a lot of graphic forensic detail about the body and the inclusion of Oscar as an almost equal partner in the case definitely softens the tone.
There are lots of twists as the investigation progresses. Dan needs to balance his professional interest alongside his friendship, relationship and holiday plans. I enjoyed the setting and there are lots of mentions of food so don't read on an empty stomach! I also liked the recurring wolf motif that threads through the book.
Murder in Siena is a twisty murder mystery.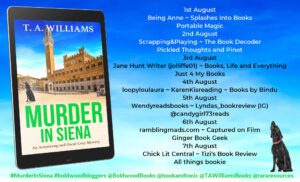 Murder in Siena
A brand-new cozy crime series set in gorgeous Tuscany…It's murder in paradise!
A lazy weekend in the country…
Dan Armstrong and the new love of his life, Anna, are heading to a hotel deep in the gorgeous Tuscan countryside for a long weekend, looking forward to some time away from the stresses of their day jobs. With the beautiful and historic city of Siena just around the corner, it promises to be relaxing and enjoyable. What could possibly go wrong?
A mutilated body…
But when a mutilated body is discovered in the hotel grounds Dan is called in to help with the investigation. But who or what could have been responsible for such a vicious attack? Was it the work of wild animals, or is there a brutal murderer at large?
A killer who cried wolf?
Dan knows he is dealing with a clever killer – whether whether two- or four-legged! And as he sets out to solve the case he begins to worry about his own loyal canine companion. Could Oscar be in more danger than any of the other hotel guests or is a murderer trying to cover their tracks?
It's another case for Dan and Oscar to solve!

Author Bio –
T A Williams is the author of over twenty bestselling romances for HQ and Canelo and is now turning his hand to cosy crime, set in his beloved Italy, for Boldwood. Trevor lives in Devon with his Italian wife.

Social Media Links –