Green-fingered Ally is providing the mistletoe to decorate the church hall for Christmas. As the tree lights are switched on, there is a fatality…
Murder Under The Mistletoe is the second book in the Abby Finch series. I have not read the first book and I think it would have been beneficial as there were lots of mentions of Abby's past and her ex's death which I believe were covered in the previous book.
Abby is happy to be reunited with former teacher Edward which makes his subsequent death even more upsetting. She is also feeling unsettled after meeting 'silver fox' Gregory who has a curious way of making people do things for him. He turns his attentions on Abby and hints at blackmail to coerce her…
Ooh my hackles were raised by Gregory. He is unpleasantly smarmy and I wasn't surprised when his real personality becomes clear. I instantly thought he should have been the victim and Abby soons reaches the same conclusion. Edward's past does raise some potential motives too but overall I was convinced that Gregory was supposed to die.
I found the mystery intriguing and enjoyed being introduced to the village and meeting the characters. In particular I really liked Abby as the main character. However, there were quite a few so I struggled a little to keep the relationships clear in my head especially as there were mentions of Abby's recent past which are significant and featured in the first book.
Murder Under The Mistletoe is an enjoyable murder mystery and I look forward to catching up on the first book.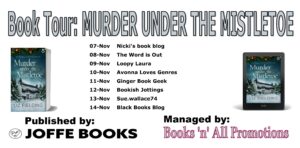 MURDER UNDER THE MISTLETOE by Liz Fielding
MEET ABBY FINCH. SHE'S THE BUSY MUM OF THREE, AN EXPERT GARDENER AND THE STAR OF YOUR NEW FAVOURITE COZY MURDER MYSTERY.
Abby Finch heads to the old church hall armed with mistletoe and holly ready to help decorate in time for the festive season. But she arrives in time to witness a horrifying sight. Edward Marsh reaches to test the antique star at the top of the tree. There's a fizz and the lights go out.
Abby hears the sickening thud of a body hitting the ground. When the lights turn back on Edward is dead.
It soon becomes clear it was no accident.
The real victim should have been Gregory Tatton, a dapper silver fox, popular with the ladies of the seniors' lunch club. And a known blackmailer . . .
Abby is desperate to know the truth, but putting herself in danger isn't on her Christmas list.
Who's been naughty? Who's been nice? And who's hiding the fact they're a murderer?
Fans of Faith Martin, Jane Adams, Frances Evesham, M.C. Beaton, Clare Chase or Jeanne M. Dams will love this addictive cozy mystery!
MEET THE DETECTIVE
Brilliant gardener and the busy mum of three, Abby Finch's dreams of winning gold at Chelsea Flower Show were put on hold by an unplanned pregnancy and marriage. But she wouldn't have it any other way. These days she's kept on her toes looking after her beloved family, running her own business and dealing with her imminent divorce. In an effort to keep things cordial, she's allowed her ex to bully her into restoring the garden of his family home. Thankfully she's surrounded herself with a great group of friends to lean on.
THE SETTING
Pretty Maybridge is a charming village set in the sheep-dotted Cotswolds hills, with a long history stretching back to Tudor times. It's the type of place where everyone knows each other, but there's a wonderful bookshop on the corner of the bridge, a popular riverside café and a bustling market at Christmastime. And with Bristol nearby and a big supermarket round the corner.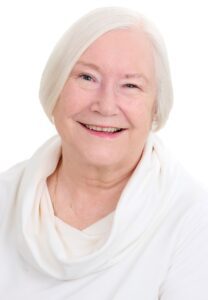 LIZ FIELDING
Award winning author Liz Fielding was born with itchy feet. She was working in Zambia before her twenty-first birthday and, gathering her own special hero and a couple of children on the way, has lived in Botswana, Kenya and the Middle East, all of which have provided rich inspiration for her writing.
She has written more than seventy books, several of which have won awards, and sold over 15 million copies. In 2019 she was honoured with the Romantic Novelists' Association Outstanding Career Award.  She lives in West Sussex.
BOOKS BY LIZ FIELDING:
MAYBRIDGE MYSTERIES SERIES