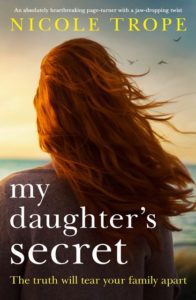 Trigger warning: this book review deals with suicide and domestic abuse.
One Halloween, two friends are on their way home from a party and see a dummy hanging outside a house. Laughing about, they head over and discover the dummy is actually their friend Julia.
Suicide.
An ugly word. A terrible word. A terrible legacy for those left behind.
The story then picks up with Julia's mother Claire, desperately trying to make sense of her loss and explore what could have driven Julia to such devastating action. Whilst clearing Julia's university room, she finds a box of letters showing how love became betrayal.
Claire needs to find out what could have been so awful that her daughter would feel that taking her own life was the only option left.
Meanwhile, her family are falling apart. Claire's ex husband returns: he never reconciled with Julia due to her revulsion at the way he physically and emotionally abused Claire during their marriage. Her new husband is drinking to take away the pain. Her sons are turning to their dad, avoiding the family home as much as possible.
As suggested by the tagline and blurb, there is a major twist and I did see it coming but this didn't lessen the impact. In fact, it ramped up the expectation as I waited and waited to see if I would be proved right and how the author would resolve the narrative threads.
This was a truly gripping book and I loved it from start to finish.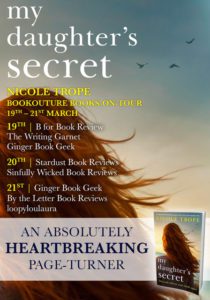 My Daughter's Secret by Nicole Trope
My baby girl, I'll never forget you – your smile, your laugh, the way your hair sparkles in the sun. I cannot comprehend this pain. I cannot breathe through it.
For Claire, life as she knows it is over. And after the death of her daughter, Julia, she is searching for answers. Stumbling upon a pile of letters, hidden under Julia's bed in an old, battered shoebox, she feels closer to her daughter than ever before. They tell her that Julia was happy, that she was thriving at university, that she was in love.
But as the letters go on, Claire starts to feel uneasy at something hidden between the lines. Even as she grieves, she must prepare to face a shocking discovery. Because Julia was hiding a terrible secret – and when it's uncovered, it will make Claire question everything she thought she knew about her daughter…
An emotional and gripping page-turner that will stay with you long after you finish the last page. Fans of Liane Moriarty, Lisa Wingate and Jodi Picoult will love this moving and poignant tale that is full of shocking twists.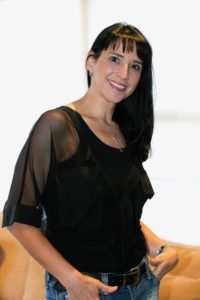 About the author
Nicole Trope went to university to study Law but realised the error of her ways when she did very badly on her first law essay because-as her professor pointed out- 'It's not meant to be a story.' She studied teaching instead and used her holidays to work on her writing career and complete a Masters' degree in Children's Literature. After the birth of her first child she stayed home full time to write and raise children, renovate houses and build a business with her husband.
The idea for her first published novel, The Boy under the Table, was so scary that it took a year for her to find the courage to write the emotional story. Her second novel, Three Hours Late, was voted one of Fifty Books you can't put down in 2013 and her third novel, The Secrets in Silence, was The Australian Woman's Weekly Book of the month for June 2014.
She lives in Sydney with her husband and three children