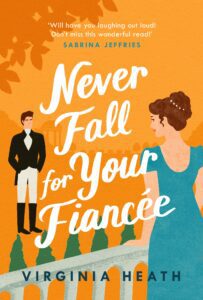 1825 and Hugh Standish has been living a lie. He has told his mother he is engaged and now she is on her way from America to meet his non-existent betrothed. A chance encounter in the street with a financially desperate young woman, Minerva Merriwell, gives Hugh the idea to pay her to pretend to be his fiancee…
Never Fall For Your Fiancee is an historical romance set in England in the Regency period. I found myself immediately immersed in the period and hugely enjoyed the gentle comedy and light hearted romance as it develops.
Hugh's situation and his rapport with his incredulous best friend Giles immediately makes him likeable. He has got himself into rather a pickle with a series of elaborate lies and is worried that he is about to be found out. He has lied to his mother but doesn't want to hurt to disappoint her.
We are then introduced to Minerva and her two sisters who she is supporting through her art work after their father abandoned them. Diana and Vee are not at all keen on this fiancee scheme but don't realise the severity of their financial situation as Minerva protects them. I liked the light hearted banter with butler Payne as he offers a servant's wise intepretation of high society life as Minerva struggles to play the part.
I loved the immediate attraction between the main pair which they are anxious to keep hidden. This maintained my interest in the plot as I waited with baited breath to see if Hugh's mother would be fooled. The couple are equally determined not to give in to their emotions due to their family history. Hugh doesn't want to disappoint a wife by cheating like his father while Minerva has learned to rely on herself alone.
Never Fall For Your Fiancee is an entertaining and light hearted historical romance novel and I really enjoyed it the gentle comedy.

Never Fall for Your Fiancée
The trouble with lies is they have a tendency to catch a man out.
The last thing Hugh Standish, Earl of Fareham, wants is a wife.
But since the only way to keep his mother's matchmaking ways at bay is the promise of impending nuptials, Hugh takes the most logical action: he invents a fake fiancée.
It's the perfect plan – until Hugh learns that his mother is on a ship bound for England to meet his 'beloved'. He needs a solution fast, and when he collides with a mysterious beauty, he might just have found the answer to his prayers.
Minerva Merriwell is desperate for money to support her sisters, and although she knows that posing as the Earl's fiancée might seem nonsensical, it's just too good an offer to refuse.
As the Merriwells descend upon Hugh's estate, the household is thrown into turmoil as everyone tries to keep their tangled stories straight. And with Hugh and Minerva's romantic ruse turning into the real thing, is true love just one complication too many?
'Filled with fabulously British banter, wit, and heart, this delightful book is one of my must-read rom-coms of the year'

Author Bio – When Virginia Heath was a little girl it took her ages to fall asleep, so she made up stories in her head to help pass the time while she was staring at the ceiling. As she got older, the stories became more complicated, sometimes taking weeks to get to the happy ending. Then one day, she decided to embrace the insomnia and start writing them down. Twenty-two books and two Romantic Novel of the Year Award nominations later, and it still takes her forever to fall asleep.
Social Media Links –
Giveaway to Win 2 x e-copies of Never Fall for Your Fiancée (Open INT)
*Terms and Conditions –Worldwide entries welcome.  Please enter using the Rafflecopter box below.  The winner will be selected at random via Rafflecopter from all valid entries and will be notified by Twitter and/or email. If no response is received within 7 days then Rachel's Random Resources reserves the right to select an alternative winner. Open to all entrants aged 18 or over.  Any personal data given as part of the competition entry is used for this purpose only and will not be shared with third parties, with the exception of the winners' information. This will passed to the giveaway organiser and used only for fulfilment of the prize, after which time Rachel's Random Resources will delete the data.  I am not responsible for despatch or delivery of the prize.