TRIGGER WARNING: suicide, child murder, domestic abuse
Sally has left the police force but she can never forget the missing girls. She is still in contact with the families and mourns their loss. But out of the blue she is contacted by the chief suspect who claims to have information. Then she sees a missing poster with her own photo on, the same format as the killer used to use. Can she trust a convict, will she ever find the truth, is she in danger?
Next Girl Missing is a crime thriller novel set in America.
Sally is haunted by a case of missing girls which ended after the last girl was found raped and murdered. The other bodies were never found. Now the main suspect in the case promises to reveal the real killer but only to Sally. The police and Sally lock horns over the correct course of action and in the meantime she realises that she might be the killer's next target.
The book is written from various third person perspectives and from different times. This allows us to see the background to the case but also Sally's personal life which plays a significant role in the book. Her current situation as a single parent and her relationship with her son has its roots in the past and her marriage to Scott, a fellow officer. Scott was horrendously controlling and the scenes of his emotional abuse felt uncomfortably authentic. Now she has a fresh start out of the police and her marriage but the case still affects her deeply.
The author has carefully balanced the serial killer case with introducing us to Sally. There are plenty of plot twists, tension and mystery about the case as well as the emotional depth to Sally's personal life.
Next Girl Missing is an engaging start to a series and the next book Her Deadly Truth is also available now.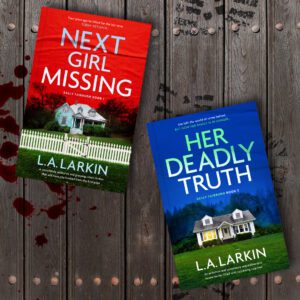 Book blurb:
Next Girl Missing: A completely addictive and gripping crime thriller with a shocking twist (A Sally Fairburn Crime Thriller Book 1)
The little girl fidgets in her seat, wringing the ends of her scarf in a rush of panic. She tugs at the car door handle but it doesn't open. Tears well in her eyes. "I want my mommy."
Four years ago, six young girls were snatched from the streets of quiet, suburban Pioneer Heights—chilling, fake "missing" posters of each victim hung around town just before they were taken. Ex-police officer Sally Fairburn has always been haunted by the case and their inability to bring the girls home. Having lost her own daughter, she knows only too well the pain it brings…
Four years on, the wide brown eyes and neat braids of twelve-year-old Anna Moorhouse—the last girl to disappear—still plague Sally's dreams. She has never stopped fighting to bring the devastated families back together, but all leads have gone cold. Until Sally receives a chilling call out of the blue: their former main suspect, in prison for another crime, wants to talk to her… alone.
Desperate for answers, Sally races to interview him. But a horrifying discovery stops her in her tracks: a missing poster—on her daily running route, in the same style used four years ago—with Sally's own face on it…
Not only is Sally in grave danger, but the more threats she receives, the more convinced she becomes that the killer is a lot closer to home than she ever could have imagined… But can Sally finally catch him before any more innocents disappear—and before Sally herself becomes his next victim…?
Fans of Lisa Regan, Greg Olsen and Melinda Leigh will love this gripping new crime thriller series. Prepare to stay up all night!
Her Deadly Truth: An addictive and completely unputdownable crime thriller filled with nail-biting suspense (A Sally Fairburn Crime Thriller Book 2)
She stumbles into the street in a thin cotton nightdress, tripping in her haste to get away from her house. Her feet are bare, her movements frantic. "I have to get out of here," she pleads. "He's killing me."
For weeks, Carolyn Tate's suspicions that her husband is trying to kill her have been ignored—by her neighbors, her friends and even her family. But just two hours after her last attempt to make someone listen, her body is discovered.
Carolyn's neighbor, ex-police officer Sally Fairburn, is determined to seek justice for her friend's death. But although Carolyn suspected her husband, Sally finds no evidence he was involved. And Carolyn's best friends are strangely quick to defend him…
Sally knows one of Carolyn's friends, Lauren, is hiding something. She can see it in her tear-stained cheeks, averted eyes and tense shoulders: Fear. But just as Lauren's finally ready to come clean, she is murdered in a brutal hit and run. Reeling from Lauren's death, Sally is horrified to receive a series of dropped calls and anonymous flowers, leaving her with the unsettled feeling that she, too, is being followed…
Then, on edge but feeling closer than ever to the truth, Sally watches a stranger threaten her teenage son—a finger drawn across his throat. Her world stops. It's not just Sally at risk—everyone she loves is in danger unless she finds the truth… Can Sally stop a brutal killer before more innocent lives are lost?
A gripping, addictive crime thriller, perfect for fans of Lisa Regan, Greg Olsen and Melinda Leigh. Be prepared to sleep with the light on…

About L.A. Larkin
L.A. Larkin's crime and psychological thrillers have won her fans all over the world. Described as a superb "chiller thriller" writer by Marie Claire magazine, and praised by the king of crime, Lee Child, for her "fast and immersive" thrillers, Louisa's novels will keep you reading all night.
Her new Sally Fairburn series kicks off with Next Girl Missing (book 1) and Her Deadly Truth (book 2), available from all online bookstores from June 16, 2023.
Author social media