TRIGGER WARNING: drug use and addiction
Kate's best friend Andy disappears abroad and she is anxious when he doesn't keep in contact. He has a history of drug abuse so she fears for his safety. In her desperation she agrees to travel to his last known location with Daniel, a friend of Andy's that she despises. Can they keep their arguments to a minimum and find their mutual friend…?
Not In A Million Years is described as a romantic comedy but I feel this doesn't do justice to the intense and emotional plot and characters. Yes, the romance strand is clear throughout the book as Kate and Daniel deny their true feelings for each other. But for me, the strength of friendship and the perils of addiction were just as strong as themes.
That makes it sound a bit heavy, and at times it was. I was so wound up by Andy's selfishness even while I tried to remember that addiction is an illness. Kate has good intentions and seems like a genuinely caring person. She suffers from insomnia as well as having a fear of heights and flying. These elements added to her authenticity as a character.
There were other moments of wonderful comedy, passionate sex scenes, and episodes that showed the gentleness and kindness of Kate and Daniel. I also want to mention the wonderful descriptions of the location. I have been to Turkey twice and felt like I was back there (plus I loved the inclusion of the cats!)
Not In A Million Years is an entertaining book and makes me yearn for the summer!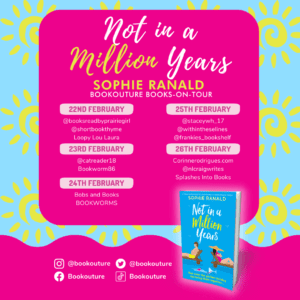 Not in a Million Years: A totally hilarious and feel-good enemies-to-lovers romantic comedy by Sophie Ranald
Cute bikini: tick Icy cocktails: tick Glossy magazines: tick Person on the next sun lounger: *worst nightmare*
Chronically single Kate is winning at life. She's finally saved enough to live alone in her dream home, she has a great group of friends, and she has – at last – perfected the ultimate chocolate cake. So what if her love life is dead on arrival? Forget sex, she can make a sponge that would blow your socks off.
Aside from her romantic dry spell (is it still a 'spell' if it's been years…?!), everything is going according to plan. But when she finds out one of her oldest friends Andy is travelling abroad and needs her help, she knows she'll have to drop everything and fly out to him.
Only problem is, Daniel, the mutual friend she blames for Andy's wild lifestyle, is coming with her. It's the first holiday abroad she's been able to afford in years, and she has to spend it with him?!
But when Daniel and Kate arrive, they soon find themselves having the unexpected romantic holiday of a lifetime. Swimming in crystal clear waters, sharing delicious meals and exploring beautiful local villages… It would all be perfect, if only they weren't with each other.
And as the days pass, and more than one waiter mistakes her and Daniel for a honeymooning couple, Kate has to remind herself that there's a reason she stayed single all these years. But as she sips her dry Martini and watches Daniel's toned body dive into the pool, she wonders if it's possible to have the perfect holiday with a man you hate… Or if maybe Daniel isn't so bad after all?
A feel-good, feisty and fabulous romantic comedy, perfect for anyone who has ever found themselves in a love-hate relationship. Fans of Emily Henry and Sophie Kinsella will love this laugh-out-loud, snort-inducing read.
Buy links!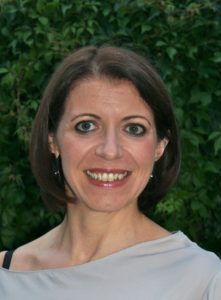 About the author:
Sophie Ranald is the youngest of five sisters. She was born in Zimbabwe and lived in South Africa until an acute case of itchy feet brought her to London in her mid-20s. As an editor for a customer publishing agency, Sophie developed her fiction-writing skills describing holidays to places she'd never visited. In 2011, she decided to disregard all the good advice given to aspiring novelists and attempt to write full-time. After one false start, It Would Be Wrong to Steal My Sister's Boyfriend (Wouldn't It?) seemed to write itself, and six more novels have followed. Sophie also writes for magazines and online about food, fashion, finance and fitness. She lives in south-east London with her amazing partner Hopi and their two adorable cats.
To find out about Sophie's forthcoming releases and get access to free books and special offers, sign up to her newsletter at sophieranald.com or www.facebook.com/SophieRanald
Author social media: