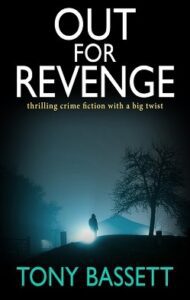 A convicted killer languishes in prison, thinking of revenge on the cop who caught him. Drugs related deaths, arson, bent police officers, undercover operations. Roscoe and Roy have their hands full!
Out For Revenge is the 4th book to feature DCI Gavin Roscoe and DS Sunita Roy. I have previously read and enjoyed the first book in the series, Murder on Oxford Lane, and there are references to those crimes in this book, as well in events in the intervening books.
I enjoyed the multiple plot threads involved in the book, some of which overlap as the story develops. Sunita's personal life takes a back seat compared to the first book whilst Gavin's steady family situation is thrown into peril by the end of the book. The danger creates a taut plot and fast pace.
The main murder mystery has the detectives confused as the murder timeline doesn't add up with the house being set alight. The connection with unscrupulous police officers adds a tension as Roscue assesses the links between the drugs ring and corruption of his fellow detectives. There are high speed chases and undercover scenarios as well as modern technology and dogged police work.
Alongside the main plot is the prisoner with revenge on his mind. I felt that I wanted more information about his self proclaimed innocence. His behaviour is sinister and outright dangerous as he seeks ways to redress the wrongs he feels he has endured. There is high drama as this plotline interweaves with the other, leading to a thrilling ending.
Out For Revenge is an enjoyable detective thriller with strong lead characters.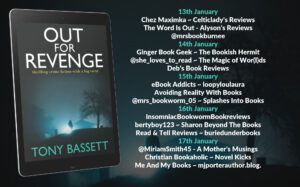 Out For Revenge
When notorious gangland boss Tadeusz Filipowski is released from prison, several people start looking over their shoulder.
A volatile character, not shy of picking fights, Filipowski plans to expand his drugs empire and put his competitors on a backfoot. That's until he turns up dead. Very dead.
DS Sunita Roy of the Heart of England police is handed the case but it's a challenge to find the killer of a man with so many enemies.
DCI Gavin Roscoe would lend more support but he is busy nailing down suspicions of corruption plaguing the force.
Soon, however, the investigations will bump into one another. And unless Roy and Roscoe can get to the bottom of the mystery, they could well become the next victims.
OUT FOR REVENGE is the fourth gripping standalone mystery in the Detectives Roy and Roscoe crime fiction series by Tony Bassett.

Purchase Links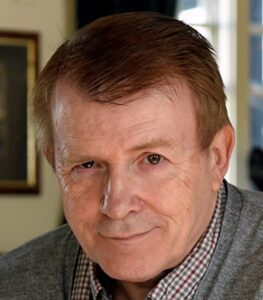 Author Bio –  
I am a semi-retired journalist who was born in West Kent. While growing up, I spent hours reading and writing, and, from an early age, nursed an ambition to become first a journalist and then novelist. My theory was that, in order to write novels, one had to have life experiences to colour one's writing and one could obtain those experiences through journalism.
I was fortunate enough to be named Time-Life Magazine Student Journalist of the Year in 1971 in a competition organised by the National Union of Students. At the time, I was editing the student newspaper at Hull University, where I gained a BA Honours degree in History and Political Studies.
After six years working on provincial newspapers in Sidcup, Worcester and Cardiff, I became a freelance journalist in London. For 24 years, I was a reporter on the staff of the Sunday People (now part of Reach plc, formerly Trinity Mirror). Over the years, I sold tens of thousands of stories to the national newspapers, including the Daily Mirror, Daily Mail, The Sun, Daily Star, Daily Telegraph and London Evening Standard.
My speciality was tracking people down. For instance, I found evidence about Rod Stewart's secret love child Sarah Streeter by tracing a retired adoption agent through a library ticket. On one occasion, I took an escaped gangster back to prison. Some of my stories can be read on my website (see below); others are generally available online. For thirty years, I was also employed as a birth and marriage researcher mainly for the Mail on Sunday, Sunday Mirror, Sunday People and The Sun.
I have a grown-up son and four grown-up daughters who all live in South Wales.