This book really affected me and I sobbed for about 30 minutes when I finished it. It wasn't that the ending was particularly sad but the book was so real and human that I felt I had gone on an emotional journey with the characters.
It wasn't until I read the acknowledgments at the end of the book that I realised this was a sequel! It works so well as a stand alone book.
The narrative follows the story of bridal boutique owner Helen and her daughter Betsey, professional bridesmaid Nat and wannabe bride Jenny.
Helen helps other brides to find their perfect dress but the one person she wants to help won't let her. Meanwhile, she has her own relationship developing but feels guilty about finding love again after the death of her husband.
Betsey is in denial about her wedding and, instead of asking her mum, has got Nat to organise parts of the wedding but will the big day go ahead or will an office romance change her life forever…
Jenny's mum died when she was 16 but wrote letters to her daughter for the big events she anticipated. Jenny opens the letters during the book and they are just heartbreaking. She gets caught up in a lie when her colleague sees her trying on a wedding dress at Helen's shop. The lie gets bigger and bigger until it threatens to destroy her whole career.
This book is so good and takes you through a whole range of emotions along with the characters. I can only imagine the devastation that Jenny goes through every day, the fear and guilt of Helen learning to love again, the frustration and annoyance at Betsey's disinterested fiance, the hope that Nat will find fulfilment.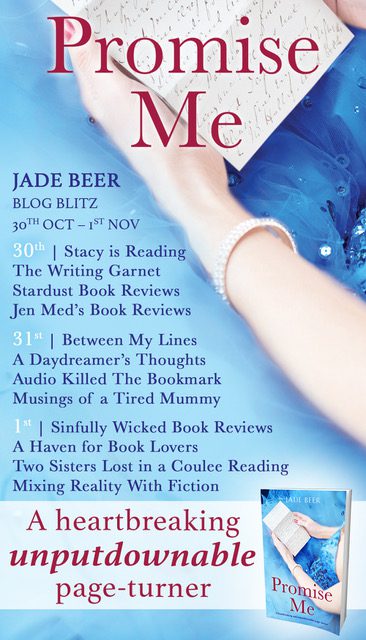 Promise Me by Jade Beer
If you could wish one thing for your daughter, what would it be?
Jenny lost her beloved mother as a teenager, and was left devastated. As a parting gift she left her daughter a bundle of letters, one for each significant day of Jenny's future. First date, first broken heart, graduation day… and one for the day Jenny meets the love of her life.
Her mother's letters are everything to her, but how can Jenny ever become the confident, successful woman her mother wanted her to be when her heart is broken by her loss? When an unexpected meeting has Jenny mistaken for somebody she's not, Jenny learns that sometimes pretending is the easiest way to tell the truth and that loving someone can mean letting them go…
An absolutely unforgettable book club read that will break your heart. If you love Jojo Moyes, Cecelia Ahern and Nancy Thayer you will love this unputdownable page-turner.
 
About me by Jade Beer:
Hello!
I'm Jade. I'm a novelist, mother to two young daughters and the editor of Conde Nast Brides.
I love writing about women and all the challenges we face in our daily lives. I've been lucky enough to work with some incredibly talented women throughout my career as a journalist and editor – ones who juggle the most all-encompassing careers with family and friendships and everything else that life throws at them. They often make it look so easy. But we all know it's not. And that need to present one version of yourself to the world, while keeping the grittier, less polished reality under wraps, is a thread that runs strongly through my debut novel, The Almost Wife.
In my day job as the editor of Conde Nast Brides, I share my working life with editors of some of the glossiest, luxury brands in the world – Vogue, Tatler, Glamour – and I have the enormous priviledge of travelling the world and sitting front row at beautiful fashion shows and working with the world's leading florists, cake makers and stylists. But I also take a daily peek into the lives of young women who are engulfed in one of the most exciting times of their lives – planning their wedding days. This, above everything else, is the really fun bit. Being on the front line if you like. Hearing their thoughts, fears, worries and ambitions for the future. This really powerful cocktail of glamour and reality dances across every page of The Almost Wife and is currently being poured into my second novel which is due out in October this year.
I'm not sure I could have written The Almost Wife without making it personal too, feeding some of my own quiet fears into the mix. I've sat in important meetings, dropping huge clangers that years later still make me cringe. I've got more than my fair share of self-doubt and suffer like many other women from the dreaded imposter syndrome. I worry constantly about my family. How much time I have left with them. Am I doing any of it right? Will I be riddled with regret in later years? Will my daughters be critical of the choices I made? Am I failing the people I love the most?
Although work places me full time in London, my heart is in the countryside where I live with my husband and our two daughters. The Cotswolds is where my husband and I used to spend romantic weekends plotting our future together long before children came along and is now where I watch them both run free, hoping I will keep them close for many years to come.
[amazon_link asins='B07G3XPMHH,B07BMV2TMQ' template='ProductCarousel' store='tiredmummyblog-21′ marketplace='UK' link_id='512977e3-dcdf-11e8-9147-5d9f60fd3c74′]