Stella Gallagher is madly in love with Paolo when he drops a bombshell: his visa is about to expire and he will be deported. He proposes and Stella is torn by the tragedy of her past. Can she overcome the past (and her future mother in law!) in order to create the future of love and happiness?
Stella never wanted to get married and have children but now the thought of losing Paolo makes her accept his proposal. His mother arrives from Italy with the family engagement ring and wants to take over the wedding plans, creating several comedic scenes. Stella agrees to have the wedding in Italy leading to lost passports, a forgotten wedding dress and a frantic trip across Europe.
She fears that her friendship with her best friend is struggling while Carmen deals with her father with dementia, her family business and her hopes for her own relationship. This leads to tension between the two women and adds an extra subplot to the book. I could see both perspectives and understand the frustrations and concerns that each woman is dealing with.
The tone of the book is warm and light hearted despite the tragedy that Stella has experienced. There is plenty of humour as she battles with her future mum in law Rosalia. There are serious moments where Carmen deals with classist and racist attitudes but this is handled sensitively to convey abhorrance.
Promises at Indigo Bay is the second book in the Blue Hills series by Ellyn Oaksmith and I have not read the first. It therefore works perfectly well as a standalone novel but I now want to catch up on the first to see how Carmen and Evan got together.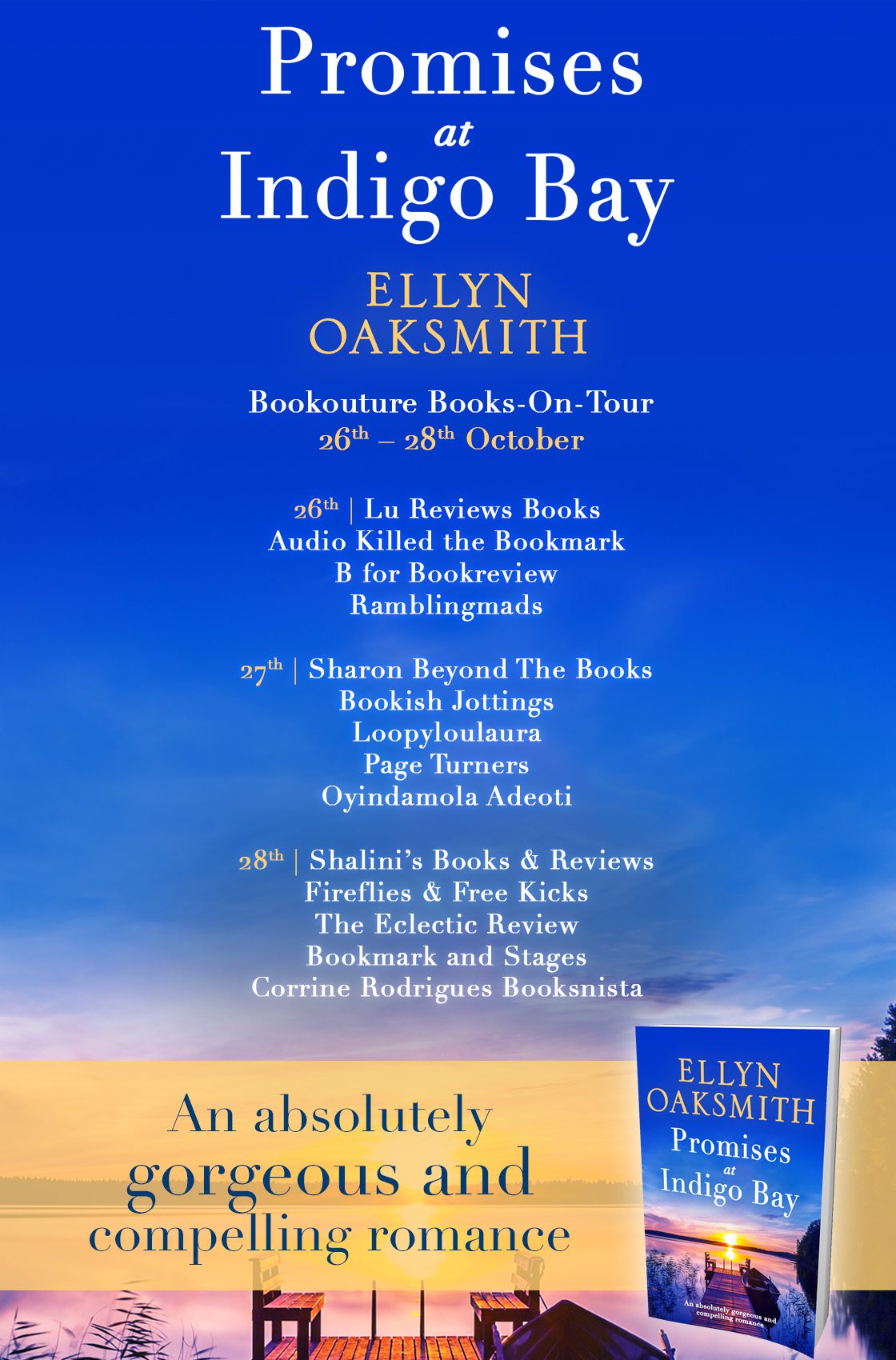 Book Description:
Our life together meant more to me than he could possibly imagine. I just wanted another night. I thought I knew what was coming. A proposal. If only it had been that simple.
Things are finally working out for Stella Gallagher. Unlucky in love and faced with limited options in her small town, she was beginning to give up on romance altogether, until mysterious Italian Paolo Gentillo moved to Chelan…
Paolo is smart, kind, gorgeous and, most importantly, they're completely obsessed with each other: Stella has finally found her match. Everything would be perfect, except there are things she hasn't told Paolo—she doesn't know how he's going to feel about her when he finds out about her past…
So when Paolo proposes, Stella panics: it's way too soon. She wants to be with him, but suddenly they're talking about forever. He doesn't even know the real her, she's scared to face up to her secret, and she's never felt so alone. Is the damage from her past going to threaten her chance at a perfect future?
A heart-warming story about learning to trust in yourself and the people you love, Promises at Indigo Bay will show you that it's never too late to try for your happy ending. For fans of Robyn Carr, Carolyn Brown and Debbie Macomber.

Author Bio:
Ellyn Oaksmith is the USA Today and Kindle bestselling author of the Blue Hills Series, featuring the Alvarez family.
After graduating from Smith College and attaining her MFA from The American Film Institute, Ellyn began her writing career as an award-winning screenwriter in Hollywood. Her books explore the same themes as her screenplays: grit, humor, family and love.
Ellyn lives on one of Seattle's many hills with her husband and spends as much time as possible on the water as part of a competitive rowing team.
Buy Links: