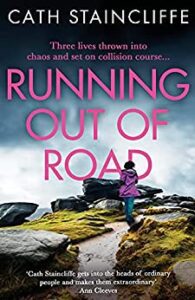 A girl kidnapped by her father. A drug dealer teen on the run. A housesitter, wallowing in the past. A young PC desperate to impress. A seasoned DS on the hunt for a killer. Five lives that blend together…
Brilliant, what a book! Running Out Of Road is a wonderfully written novel where the strands of plot overlap and intersect soooooo cleverly!
The third person perspective of the five characters weave together brilliantly. The coincidences and narrow misses are completely enthralling and had me on the edge of my seat with anticipation. The danger and tension are maintained throughout and I just couldn't put it down!
The five main characters are all likeable and endearing in different ways. Scarlett is in danger from her father who murdered her mother. But she is brave and desperate to escape by any means necessary. Dylan is involved with drugs but is a teenager trapped in a vicious cycle. His good nature is revealed by his behaviour towards Scarlett when he realises her situation. Ron has been bullied out of the fire service due to his sexuality and now shies away from human contact.
The two police officers are at different points in their careers and personal lives. PC Ahmed Ali is young and inexperienced. But he is eager to impress his colleagues, wants to make a high profile arrest, but most of all make his parents proud. DS Laura O'Neil is an exhausted mother who has been hunting for Scarlett's father and is determined to bring him to justice.
Running Out Of Road is well written, cleverly plotted and utterly enthralling.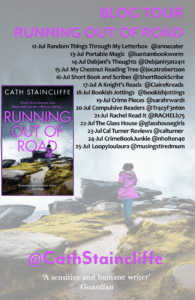 Running Out Of Road: about the book:
A missing schoolgirl, a middle-aged recluse, an exploited teenager. Lives thrown into chaos and set on collision course. With the police in hot pursuit.
Scarlett is dancing in the school talent show tomorrow. Nana, who Scarlett lives with since Mum died, reckons Scarlett will be on Strictly at this rate. Except Scarlett doesn't make it home from school. She's abducted by a man she never imagined she'd see again. A man on the police's most wanted list. Her dad.
Ron has made a living as a house and pet sitter since quitting his career on the front line in the fire service. He's currently looking after a place deep in the Derbyshire Peaks. The solitude suits him. And managing animals is so much simpler than coping with other people.
Dylan's a 'cuckoo', dealing drugs on the county line, moving from nest to nest, picking out people who daren't say no. Keeping his head down, one step ahead of the law. So far. But now everything's falling apart.
DS Laura O'Neil is running on empty after nights dealing with her teething toddler. But Laura is driving the hunt for Scarlett and knows that every minute counts. Any delay, any mistake might cost Scarlett her life. A devastating prospect.
PC Ahmed Ali discovers a seriously injured man in a drug den and chases his suspected attacker across the hills. Ahmed is determined to bring him to justice. But fate has other plans in store.
A race against time, played out in the brooding wilderness, the limestone gorges and gritstone edges of the Peak District. Themes of escape and entrapment, of shifting loyalties and new alliances, of violence, fear and love, resilience, kindness and hope.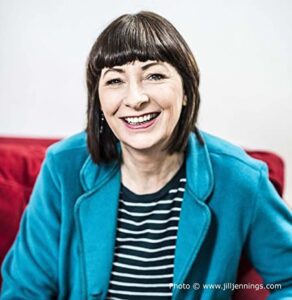 About the author
Cath Staincliffe is a best-selling, award-winning novelist, radio playwright and the creator of ITV's hit series, Blue Murder, starring Caroline Quentin as DCI Janine Lewis.
Cath's books have been short-listed for the British Crime Writers Association best first novel award, for the Dagger in the Library twice and twice for the Short Story Dagger, winning in 2012. She was a winner of the WGGB Best Radio Drama Award in 2019. Cath's Sal Kilkenny private eye series features a single-parent sleuth working the mean streets of Manchester.
Her debut Looking For Trouble was serialised on Woman's Hour on BBC Radio 4. Trio, a stand-alone novel moved away from crime to explore adoption and growing up in the 1960s, informed by Cath's own experience. Letters To My Daughter's Killer was selected for Specsavers Crime Thriller Book Club in 2014 and featured on ITV3's Crime Thriller Club. Cath also writes the Scott & Bailey novels based on the popular UK TV series.
Cath created the probate detective series Legacy for BBC Radio 4 and guest writes on the Stone police drama. Her recent stand-alone novels examine the impact of crime on ordinary families. The Girl in the Green Dress was inspired by her experience as the parent of a transgender child.
Cath's latest book, Quiet Acts of Violence, sees detective duo DI Donna Bell and DC Jade Bradshaw investigating the death of a newborn baby and launching a hunt for her missing mother. Cath is one of the founding members of Murder Squad – a group of Northern crime writers who give readings, talks and signings around the country.
Cath was born in Bradford, Yorkshire, UK and now lives in Manchester, Lancashire with her family. You can follow her on Twitter, @CathStaincliffe, where she hangs about when she should be busy writing!