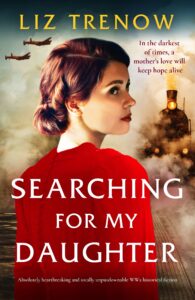 1945: Miriam is released from a concentration camp. All of her family are dead except for her daughter Rosa who travelled to England before the war. Can the mother and daughter be reunited?
Searching For My Daughter is an historical novel set in the 1930s and 40s.
The book begins in 1945 when Miriam has travelled for weeks to reach the British for help in relocating. She is desperate to find her daughter Rosa, her only remaining family member after the Nazi genocide. She meets officer Jack Preston who knows Rosa and supports Miriam in her search.
We then travel back to 1938 to see Rosa's experience before the war and during her relocation to England. It makes for emotional reading as she is abused sexually and physically by her employer and then her husband. She finds a glimmer of hope and love with Jack before being forcibly parted.
This book is not for the faint hearted. The sexual and physical abuse in tandem with the concentration camp descriptions make this an emotional read. The book is written in the third person with different perspectives taking centre stage. I found myself swept up in the plot and the lives of the characters, and the story develops at a reasonably swift pace. The style of writing is engaging and easy to read, making it easy to identify with the characters and their emotions.
Searching For My Daughter is a gripping and emotive historical novel.

MEDIA PACK
Searching for My Daughter: Absolutely heartbreaking and totally unputdownable WW2 historical fiction
The queue is long, but that barely matters. She is used to waiting. For the midnight knock at the door, for her number to be called, for the next meal of watery soup, the sound of a gunshot… Sustaining her through every moment of waiting, there has remained the tiniest flicker of hope: her daughter Rosa's face, eyes bright and expectant, arms outstretched.
Germany 1945: Miriam has travelled for over two weeks to reach safety. Exhausted and hungry, she knows she is still one of the fortunate ones. One of the few to survive the camps. Having lost her darling husband and son, the only thing that has kept her walking is the hope of finding her daughter, Rosa.
As she arrives at the checkpoint, she is told it is closed for the day. But in her mind Miriam can hear her daughter's voice: Be strong, stand up to them. Don't let anyone bully you, Mum. Standing tall, she comes face to face with the guard and refuses to leave until they help her.
When Miriam is introduced to an English officer named Jack, she describes how, fearing the Nazis, she and her husband sent Rosa to England to marry. It was not a marriage of love but of survival. Now, Miriam needs the officer's help: if she is to be reunited with her beloved daughter, he will need to help her travel to England.
But as Miriam begins to describe Rosa, there is a look of recognition in Jack's eyes. As he listens to her story, he is transported back to an unforgettable English summer, to secret picnics in the long grass, and to a love that shaped the man he became. Will Jack now risk everything to help Miriam make the biggest journey of all, back to her daughter and her freedom?
An utterly gripping and emotional novel about bravery, enduring love and keeping hope alive in the darkest of times. Perfect for fans of The Nightingale, Beneath a Scarlet Sky and The Tattooist of Auschwitz.
About the author:
Liz Trenow is a former journalist who spent fifteen years on regional and national newspapers, and on BBC radio and television news, before turning her hand to fiction.  Searching for My Daughter is her ninth novel. The Forgotten Seamstress reached the top twenty in the New York Times best seller list and The Last Telegram was nominated for a national award. Her books are published all over the world and translated into many languages.
She lives in Colchester with her artist husband, and they have two grown up daughters and three grandchildren.  Find out more at www.liztrenow.com, or join her on Twitter @LizTrenow or Facebook at www.facebook.com/liztrenow/
Author social media
Twitter: @liztrenow
Instagram: @liztrenow