TRIGGER WARNING: this book deals with suicide and mental illness
A failed suicide attempt sees Coleman Cooper's life change. He is taken off his medication and moved out of the mental health institution and into a new open facility. He manages to get a job and a even a romantic entanglement. But the town is experiencing a spate of murders…
Coleman is an absolutely wonderful character. He is instantly likeable, self deprecating and has a vulnerability that really tugged at my heart. I'm not sure I have ever felt such warmth for a character in a book before!
I loved the use of first person narrative to show us Coleman's perspective. There were also chapters written from another character's book about the murders to keep us focussed on the killers and victims. But it really is Coleman's personality that draws the reader in and makes this book so enjoyable.
The murders are an enjoyable plot device for getting Coleman to interact with other characters. I was kept guessing by the twists of the investigation right up until the final reveal at the end of the book.
The style of writing was so good that I was swept up in Coleman's life from start to finish and found myself really caring about his character and hoping that he would find some happiness.
Something I Keep Upstairs is one of the best books I have read this year!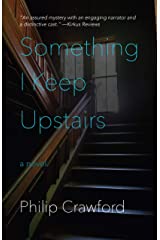 Something I Keep Upstairs book description:
Coleman Cooper is a troubled young man who can never get anything right—not even his own suicide.
When he is sent to an open-door mental health facility in a small New England village to get his life back on track, his journey darkens even further: someone starts killing the psychiatrists, one by one.
After taking a job tending bar at a local country inn—the social heart of the quirky little town where everyone knows everyone and grudges can last for decades—Coleman unwittingly finds himself at the center of the investigation, even a suspect.
Yet as villagers dread news of more victims and the police come up empty-handed, it is Coleman, and he alone, who discovers the twisted path to the killer's identity—and the door to a new life for himself.
About the author:
Philip Crawford is a former writer and editor for the Paris-based International Herald Tribune (now The New York Times International Edition). A graduate of Amherst College and the University of Chicago Booth School of Business, he divides his time between Paris and Aix-en-Provence. Visit his website at https://www.philipcrawfordauthor.com/