Nicole organises a retreat for her work colleagues at her beach house in Dorset. The group arrive with a whole heap of secrets they are keeping from each other…
The Beach House is a psychological thriller set in the UK.
Nicole and Audrey host a podcast but it may be on the brink of failing. Nicole invites her team to stay with her in order to work together on ideas to salvage the show. But all of the women have something to hide and the secrets may have devastating consequences.
The beach house is almost an extra character, and certainly creates a claustrophobic tension. This is set up in the opening chapter and straightaway suggests a sinister undertone. There is a past dimension to the book as it features a party which occurred six weeks earlier. We are drip-fed little clues slowly about the women's secrets. My mind was grasping at trying to figure out the connections and I did manage to work out some but not all of the twists!
I enjoyed the style of writing and the way that the chapters focus on one of the characters or the party. The author stacks up the layers of clues for the reader to guess at the secrets before they are finally revealed. All of the main characters have vulnerabilities and flaws to make them more realistic and rounded while the lack of a first person narrator makes their perspectives equal.
The Beach House is a tense and enjoyable psychological thriller. I have previously read and reviewed Queen Bee by Nina Manning.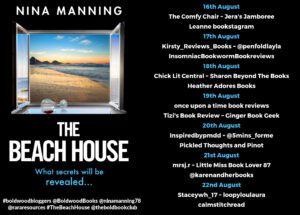 The Beach House
It should have been the perfect weekend…
Work colleagues Nicole, Margo, Paisley and Audrey all appear to be looking forward to a weekend away at Nicole's luxurious beach house on the Dorset coast. It should be a chance for the women to kick back, relax and regroup after a stressful moment at work.
But this is no normal girls' getaway. And the beach house is no normal home. This place holds dark secrets for Nicole, which threaten to be revealed when its doors are opened.
And unbeknownst to host Nicole, each of the three other guests all have secrets of their own…and some of them could be deadly.
 
Author Bio –
Nina Manning studied psychology and was a restaurant-owner and private chef (including to members of the royal family). She is the founder and co-host of Sniffing The Pages, a book review podcast. Her debut psychological thriller, The Daughter in Law, was a bestseller in the UK, US, Australia and Canada. She lives in Dorset.
 
Social Media Links –