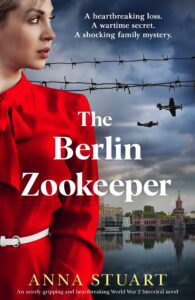 1943: the staff of Berlin Zoo struggle to save themselves and their animals from the fear of Nazi oppression and the ravages of war as the Allies bombard the city. Present day: vet Bethan arrives at Berlin Zoo to unravel the mystery of her mother's birth and search for her biological grandmother's story.
The Berlin Zookeeper is a dual timeline book set in the 1940s and present day. The main protagonists are Katharina and Bethan. The first is dedicated to the animals in the zoo even at risk of her own safety as the bombs fall. The latter leaves England to look for the truth about her mother's true heritage.
Both women are brave and face personal tragedy over the course of the book. Katharina's animals, friends and family are in constant danger from Allied attacks. The author has done a wonderful job researching the situation in Berlin during the war and the effect this had on the zoo's inhabitants. There are some quite unpleasant descriptions of animal injuries and deaths but these are handled with stoicism and compassion by the characters.
Meanwhile, Bethan's mother died years ago after searching to find her birth mother. Bethan remembers visitng Berlin Zoo but her mother's investigation proved fruitless. Now Bethan has the opportunity to do the vet job she loves and try to find the answers that eluded her mum. She also has to deal with the pressures of a long distance relationship with Callum. Ooh he made my blood boil with his careless and selfish behaviour and attitude!
This book has a bit of everything, all executed well: history, love, loyalty, tragedy, mystery, danger. The Berlin Zookeeper is a lovingly researched and written novel about the horrors of war and the bravery and kindness of humanity.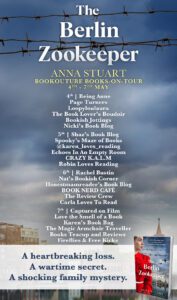 The Berlin Zookeeper book description:
Two women. One shocking wartime secret. And a family mystery just waiting to be discovered…
Berlin Zoo, 1943: Ten-year-old Adelaide and her newborn sister are orphaned after a devastating night of bombing. Heartbroken and frightened, Adelaide runs to her mother's closest friend, Katharina Heinroth, and the kind zookeeper takes the two little girls under her protection. As the bombing intensifies, Adelaide tries to shut out the horrors of war by caring for her tiny sister and playing with the adorable baby monkeys. But when Katharina organises a dangerous operation to enable children and animals to escape the battle-scarred city, something goes wrong. And Adelaide has to promise her adopted mother to keep a shocking secret. A secret that will change Adelaide's life forever.
Berlin Zoo, 2019: Bethan Taylor notices the elderly lady sitting on the bench next to her seems confused, her thoughts flitting between past and present. Ada talks of her childhood, played out in an underground bunker beneath the animal enclosures during the war. As Ada's story unfolds, Bethan is surprised to hear a name she recognises…
Katharina Heinroth is at the top of a list of German names Bethan found in a hidden compartment of her late mother's jewellery box. Bethan's father couldn't tell her anything about the crumpled piece of paper and she's been searching for the meaning ever since.
As the two women are brought together by the pain of the past can they help each other to heal? And after decades of silence, can Ada help Bethan to uncover a long-buried family mystery?
An unforgettable and heart-wrenching novel of a brave orphan girl and a shocking wartime secret. Inspired by a true WW2 story and perfect for fans of Orphan Train, The Tattooist of Auschwitz and The Alice Network.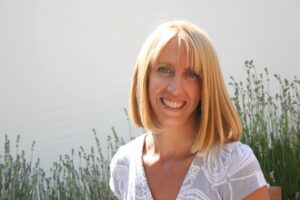 Author Bio:
Anna Stuart lives in Derbyshire with her campervan-mad husband, two hungry teenagers and a slightly loopy dog. She was hooked on books from the moment she first opened one in her cot so is thrilled to now have several of her own to her name. Having studied English literature at Cambridge university, she took an enjoyable temporary trip into the 'real world' as a factory planner, before returning to her first love and becoming an author. History has also always fascinated her. Living in an old house with a stone fireplace, she often wonders who sat around it before her and is intrigued by how actively the past is woven into the present, something she likes to explore in her novels. Anna loves the way that writing lets her 'try on' so many different lives, but her favourite part of the job is undoubtedly hearing from readers. You can reach her on Facebook @annastuartauthor or Twitter @annastuartbooks.
Buy Links: