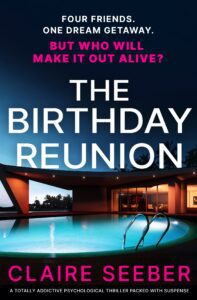 Simone, Vicky and Hannah all receive an invite from their former friend Jodie. They are invited to go to a luxury getaway abroad and despite their misgiving they all decide to attend. But wjen Jodie meets them on the island, she expresses her shock at seeing her old friends. She didn't invite them…
The Birthday Reunion is a psychological thriller, set mainly on an island near Ibiza.
The three friends haven't seen Jodie in years but are all tempted to celebrate her birthday especially as the trip is free. But immediately the friends feel uneasy and this tension ramps up when they discover that it wasn't Jodie who invited them.
The book is written from the first person perspectives of all four of the friends in the present day and the past. We see how they became friends and some of the incidents that have defined their relationships. I think I would have preferred either a linear narrative or a single narrator as I felt that the plot jumped around a bit.
There are lots of little incidents that create tension and a sinister atmosphere. The chapters are short and this helps the pace move the plot alongn swiftly. Each of the characters have their flaws and vulnerabilities which make them more human.
The Birthday Reunion is a tense and intriguing thriller.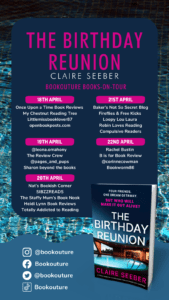 MEDIA PACK
The Birthday Reunion: A completely addictive psychological thriller packed with twists by Claire Seeber
Four friends. One dream getaway. But who will make it out alive?
When the gold-rimmed invitations arrive through the doors of best friends Simone, Hannah and Vicky they're instantly taken aback. Their ex-friend Jodie is inviting them to a lavish Mediterranean villa to celebrate her birthday. They haven't spoken in years since she betrayed them in the worst way. So how did they make the guest list?
They all have their reasons for saying yes. Stay-at-home mum Simone had her dream job snatched away. Hannah lost the love of her life. Café-owner Vicky wants the chance to help a wronged friend. Is the reunion a chance to confront Jodie and the past once and for all?
Arriving at a villa that looks straight out of a movie set, the friends relax by the sumptuous pool as they wait for the other guests to arrive. But as the chilled wine is poured and the three friends reminisce, they see Jodie walking towards them with a look of shock on her face.
Because Jodie didn't invite them here.
But by the end of the weekend it will become clear who did. Someone else has a reason for revenge. Who will make it out alive?
An absolutely addictive and twist-filled psychological thriller that will have you reading late into the night. Perfect for fans of Big Little Lies, Lisa Jewell and T.M. Logan.

Author bio
Claire Seeber is the author of bestselling psychological thrillers that shine a light onto the simmering resentments and past secrets that exist amongst seemingly ordinary lives. She has been published in more than twelve different languages and is CWA Dagger-nominated.
She started her professional life as a (bad) actress and went on to become a documentary maker, before becoming a newspaper feature writer. When she had her first baby in 2004, Claire started writing psychological thrillers and now also works as a psychotherapist.
Author social media