TRIGGER WARNING/SPOILER ALERT: rape
Emily and Max head off on a romantic retreat, trying to put the spark back into their relationship. Things have been tough for the couple with accusations of infidelity amid family bereavements. But it soon becomes clear that someone has followed them to the boat house and they could be in danger…
The Boat House is a psychological thriller set in the UK. The book is set in the present day as well as a past timeline which shows the lead up to the trip and the issues within the relationship.
Emily and Max are clinging on to their relationship despite a troubled few months. Emily has suffered two bereavements and has been worried about Max's friendship with Leah. She has her own guilt about a friendship with, and attraction to, a hospice volunteer who she met while visiting her dying father.
Most of the book is written in the present day as Emily and Max try to make the most of their time away to reconnect. However, a series of sinister events make the couple uneasy and they begin to fear for their safety. In the back of my mind, I had Emily's frantic emergency services phone call from the prologue so I didn't know who to trust.
There is a rape about halfway through the book and I did guess from the author's clues that this was one of Emily's secrets so I don't feel bad about issuing a trigger warning or risking a spoiler. There is no graphic detail but the aftermath is intense, unpleasant and emotional as Emily adjusts to her new reality.
The Boat House is a tense and dramatic thriller.
The Boat House
A dark secret. A deadly obsession. No place to hide.
Max Hunter, my boyfriend, booked the beautiful boat house on the Norfolk Broads as a surprise autumn break
A week away to heal after a fraught few months following my father's death. A chance to put the lies and secrets behind us and to start afresh. But in the silence it feels like someone is out there. Watching, waiting and taunting me.
When strange things begin to happen, I know this isn't going to be the relaxing break it's supposed to be.
As I become more jumpy, Max's patience begin to wear thin. He thinks I am imagining things. But he doesn't know the huge secret I am keeping, so big it could destroy us.
I have every right to be fearful and I have to make sure he never finds out the truth. But what if I am already too late?
Author Bio –
Keri Beevis is the internationally bestselling author of several psychological thrillers and romantic suspense mysteries, including the very successful Dying to Tell, published by Bloodhound. She sets many of her books in the county of Norfolk, where she was born and still lives and which provides much of her inspiration.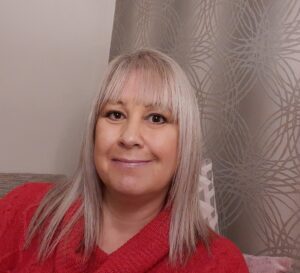 Social Media Links –