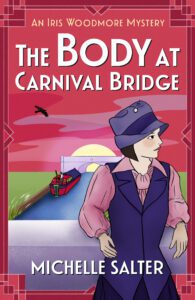 Iris Woodmore arrives back home from an ill-fated affair on the continent. She needs to reconnect with her family, friends and work but becomes embroiled in a murder investigation as well. One of her friends is almost killed by a sniper then another young woman is found dead…
The Body at Carnival Bridge is an historical cosy murder mystery set in 1922. It is the third book in the series but the firts that I have read. There is information about the earlier books and I do think it would be beneficial to read the books in order.
Iris is a forward thinking young woman but stuck in 1922 when the world views women in a particular way. She has arrived home after a love affair failed but now her reputation is in tatters. Luckily she has a range of friends and family who support her as she attempts to regain her role in England.
The book is written from Iris' first person narrative which shows us how she is feeling about her situation as well as the murder investigation. I liked her feisty attitude as she strives to find her place 'back home' as well as solve the murder case. However she also has a more vulnerable side which we are able to observe through her inner thoughts.
I enjoyed the historical context and content of the book: the aftermath of WW1, the political and social position of women in society, the class system and police hierarchy. The author seems to have researched the era and location so the descriptions bring the plot to life (plus I know many ofthe areas she describes: Crookham, Basingstoke Canal, Aldershot etc)
The Body at Carnival Bridge is an enjoyable murder mystery and I liked the historical aspect of the plot and characters.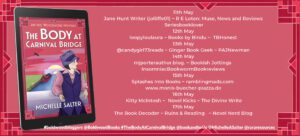 The Body at Carnival Bridge
How deadly is the fight for equality?
It's 1922, and after spending a year travelling through Europe, Iris Woodmore returns home to find a changed Walden. Wealthy businesswoman Constance Timpson has introduced equal pay in her factories and allows women to retain their jobs after they marry.
But these radical new working practices have made her deadly enemies.
A mysterious sniper fires a single shot at Constance – is it a warning, or did they shoot to kill? When one of her female employees is murdered, it's clear the threat is all too real – and it's not just Constance in danger.
As amateur sleuth Iris investigates, she realises the sniper isn't the only hidden enemy preying on women.

Author Bio –
Michelle Salter is a historical crime fiction writer based in northeast Hampshire. Many local locations appear in her mystery novels. She's also a copywriter and has written features for national magazines. When she's not writing, Michelle can be found knee-deep in mud at her local nature reserve. She enjoys working with a team of volunteers undertaking conservation activities.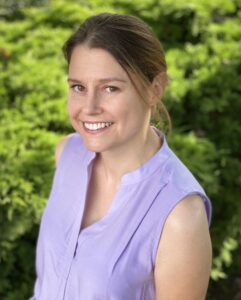 Social Media Links –