TRIGGER WARNING: psychological torture scenes
Ed's house, family and reputation are threatened by a right wing incel group. His daughter Ally goes missing and he is convinced the group are responsible. Then he is framed for a murder and accused of sexual harrassment so goes on the run with his daughter's friend Phoenix as they try to stay safe and locate Ally.
The Box is a crime thriller that is very sinister and deals with up to date issues.
Ed's life is spiralling out of control after his daughter throws a milkshake at a prominent men's rights campaigner. The group publish Ally's details so Ed gets an injunction against them. The bitter feud takes a dark turn when Ally goes missing and the only link Ed can find is to Phoenix, a homeless girl hiding from the group.
The book is mostly written from Ed's first person perspective. I loved the way he reacts to situations, being more brave than he realises and standing up for what is right. There are some shocking chapters from inside the box which provides a treatment involving drugs and electric shocks. The atmosphere is dark and dangerous which makes us anxious for Ed and Ally's safety.
The other chapters show the police investigation as Jackie investigates Ed's involvement in a murder. Jackie's family were killed in a car bomb and her team doubt her capabilities so she is determined to track Ed down and prove them wrong. The hunt is on and her methods are not always acceptable. But gradually she starts to realise that he might have been framed.
There are some fascinating plot twists and I feel proud of myself for guessing most of them but this did not spoil my enjoyment. The tension and pace is well maintained over the course of the book and I liked the mix of Ed's perspective with those chasing him. There is some violence but it is not extreme although the psychological torture in the box may be upsetting.
The Box is a gripping thriller with a fab lead character.
I have previously reviewed The Regret by Dan Malakin.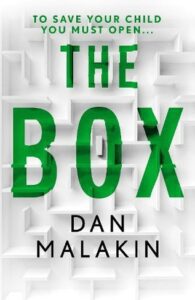 Genre: Crime thriller
Pages: 330
Publisher: Viper Books
Publication Date: 16th June 2021
Standalone: Yes
Blurb:
To save your child you must open The Box…
Ed Truman's family is falling apart. His daughter Ally is being targeted by an alt-right incel organisation, Men Together. His house is being picketed, former clients are accusing him of sexual assault, his son won't speak to him. And then Ally disappears.
Frantic, Ed suspects that Men Together have abducted her. But before he can go to the police, his DNA is found on the body of a young woman. Suddenly he's the subject of a nationwide manhunt, led by the tenacious DCI Jackie Rose. Ed finds himself on the run with Ally's friend, Phoenix, who claims to know where Ally is. But what is the truth? Is Ed a violent sexual predator? Or is he the victim of a ruthless conspiracy? The answers are in The Box. But not everyone who goes in, comes out alive…
From the bestselling author of The Regret, this heart-pounding thriller is perfect for readers of Harlan Coben, Mark Billingham and M.W. Craven.