TRIGGER WARNING: Nazi ideology and brutality
1960s England, Leah receives a letter from Magda who she hadn't contacted in over 2 decades. 1930s Berlins, two girls grow up and grow apart under Nazi rule…
The Children of Berlin is a historical novel about a friendship that is split apart by Nazi ideology.
Magda and Leah grew up together in the same apartment building but the friends are driven apart as Hitler takes power in Germany. In her letter, Magda admits her naiveity and mistakes as she fully embraced the racial and political doctrine of the Nazis. I found the detail about the gradually increasing prejudice and racism deeply disturbing.
The book is written from Leah's first person reflections in tandem with a letter from Magda about the same events. It was fascinating to witness the opposing perspectives and the realisation of hindsight that both characters have. Leah and Magda are both complex and authentic, very human with flaws and vulnerabilities.
I found myself utterly immersed in the dual narrative and enjoyed the historical detail as well as the emotional depth. The initial casual racism builds insidiously and it was devastating to see how the Jews were treated by their friends and neighbours as well as the national policies.
The Children of Berlin is a vivid and engaging historical novel about the deepening horrors of the Holocaust.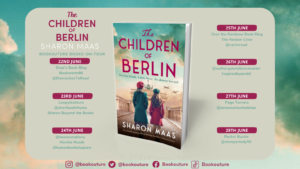 Book Description:
'I will never forgive you! You had a choice. You could have listened to your mother, your brother, your father, but you chose to listen to those monsters. And that choice remains with you. Forever.'
Berlin, 1933. Leah and Magda have been inseparable for as long as they can remember, and one beautiful summer's day in their courtyard, they vow nothing will ever come between their friendship. But Leah could never have predicted the darkness looming just around the corner…
As Hitler comes to power and the Nazi Party gain even more influence, Magda proudly tells Leah she has decided to join the Hitler Youth. Leah's blood runs cold before she begs Magda to change her mind – because Leah is Jewish. Magda refuses, and heartbroken Leah knows this will not only destroy their friendship, but put her life in mortal danger. Suddenly, the only light in her life is Magda's brother Markus, who is furious at his sister and vows to do everything he can to keep Leah safe.
As Magda becomes more entrenched in the Nazi Party, Leah's life starts to shatter as the Gestapo raid her home, sending her beloved brother Aaron to a concentration camp. Devastated, Leah and her parents are forced to flee and hide. Desperate to save Leah, Markus decides the only way he can help stop the Nazis and his sister is to infiltrate the party as an undercover resistance fighter. But will Magda see through his lie, and how far will she go to prove her loyalty to her Führer?
A powerful and heartbreaking novel about love, family, betrayal and sacrifice perfect for fans of The Alice Network, The White Rose Network, The Tattooist of Auschwitz and The Nightingale.

Author Bio:
Sharon Maas was born to politically active parents in Georgetown, Guyana, in 1951. She was educated in England, Guyana, and, later, Germany. After leaving school, she worked as a reporter with the Guyana Graphic in Georgetown and later wrote feature articles for the Sunday Chronicle as a staff journalist. Sharon has always had a great sense of adventure and curiosity about the world we live in, and Guyana could not hold her for long. In 1971 she set off on a year-long backpacking trip around South America, followed by an overland trek to South India, where she spent two years in an ashram. She lived in Germany for forty-three years and now lives in Ireland. She is the author of The Violin Maker's Daughter, The Soldier's Girl, Her Darkest Hour and many other novels.
You can sign up for all the best Bookouture deals you'll love at: http://ow.ly/Fkiz30lnzdo