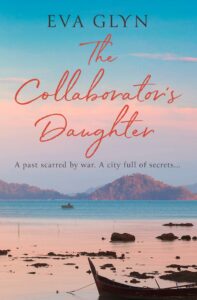 1944, a man has to make a heartbreaking choice: to don a hated uniform and try to save Jews or stay safe and protect his own family. 2010, Fran's stepdad dies and she decides to head to Dubrovnik to find out the truth about her biological father…
The Collaborator's Daughter is a dual timeline historical novel set in the recent past and during WW2.
Fran is 65 and struggling with grief and complicated family dynamics. Her mother Dragica left Croatia after the death of her father Branko and headed to England where she remarried. Now with both parents dead, Fran has no one to answer her questions about the past so travels to Dubrovik to search for the truth. She fears that her biological father could be a fascist and responsible for heinous war crimes.
In Dubrovnik Fran meets Jadran and he gives her a new perspective on the past and on her future. She struggles with the thought of a physical relationship or a long distance one, yet she feels more alive than she has in decades. I admit that I tired a little of Fran's soul searching even though I urged her to find happiness. Jadran also has significant emotional baggage which the pair need to address.
The majority of the book is written from Fran's third person viewpoint but there are alternate short chapters from Branko's viewpoint. The historic timeline was just heartbreaking as Branko struggles to survive and does everything he can to protect his family. The author acknowledges that some readers may feel disappointed that there is not more of a balance between the two timelines and I agree that this is how I felt. She says that this is due to the lack of information but I feel that that is exactly what an author could have imagined and included! Branko's storyline was much more emotive for me and I also wanted to know about Dragica's feelings and experience.
The vivid descriptions of the landscape brought the setting to life. The characters interact with their environment and this brings an authenticity to the plot. Other historical events are described in relation to Jadlan's past and the author has done plenty of research on the history and geography of Croatia.
The Collaborator's Daughter is an emotional novel about accepting yourself and moving on from the past.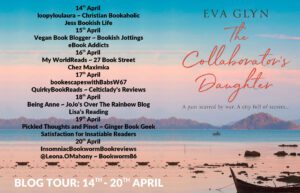 The Collaborator's Daughter
In 1944 in war-torn Dubrovnik Branko Milisic holds his newborn daughter Safranka and wishes her a better future. But while the Nazis are finally retreating, the arrival of the partisans brings new dangers for Branko, his wife Dragica and their baby…
As older sister to two half-siblings, Fran has always known she has to fit in. But now, at sixty-five years old and finally free of caring responsibilities, for the first time in her life Fran is facing questions about who she is and where she comes from.
All Fran knows about her real father is that he was a hero, and her mother had to flee Dubrovnik after the war. But when she travels to the city of her birth to uncover the truth, she is devastated to discover her father was executed by the partisans in 1944, accused of being a collaborator. But the past isn't always what it seems… And neither is the future.
Purchase Links

Author Bio –
Eva Glyn writes escapist relationship-driven fiction with a kernel of truth at its heart. She loves to travel and finds inspiration in beautiful places and the stories they hide.
Her last holiday before lockdown was a trip to Croatia, and the country's haunting histories and gorgeous scenery have proved fertile ground, driven by her friendship with a tour guide she met there. His wartime story provided the inspiration for The Olive Grove and his help in creating a realistic portrayal of Croatian life has proved invaluable. Her second novel set in the country, An Island of Secrets is a dual timeline looking back to World War 2, and although a contemporary romance featuring mature main characters her third, The Collaborator's Daughter, has its roots in that conflict too.
Eva lives in Cornwall, although she considers herself Welsh, and has been lucky enough to have been married to the love of her life for more than twenty-five years. She also writes as Jane Cable.