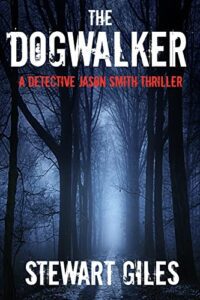 Dogwalkers are notorious for discovering dead bodies. But Paul Young and Lisa the German Shepherd find a body months after finding the last one. Then they find another…and another… Coincidence or could Paul be responsible…?
The Dogwalker is the 23rd book in the DS Jason Smith detective crime thriller and police procedural series. There are lots of references to events in previous books which were fab so I would advise reading all the books in order!
DS Smith doesn't believe in coincidence so is highly suspicious of the dogwalker who keeps finding murder victims. Women are being brutally killed but their eyes are left untouched so Smith thinks this must be significant. The murders happen in quick succession and the police are overwhelmed as they try to piece together the clues.
Smith also has personal issues to deal with as his adopted daughter is having fights at school and falling in love. Plus she knows a big secret from his past and is in danger of revealing the truth which would have catastrophic consequences.
To counterbalance the grisly murders, there is the usual banter between the police team as well as the warm teasing between Smith and Whitton. The pace is lightning quick and the twists come fast and furious. I had no idea if Smith's intuition would be proved right that the dogwalker was involved so thought that the mystery was well maintained until the very end.
The Dogwalker is a tense and dramatic addition to this fab series.

The Dogwalker (A DS Jason Smith Thriller Book 23)
From bestselling author Stewart Giles comes another brilliant addition to the Detective Jason Smith series.
Detective Smith has lost count of how many times a murder investigation has been set in motion with a dogwalker finding a body. So, when the mutilated corpse of a woman is found by a man taking his four-legged friend for a stroll, it doesn't sound any warning bells.
But when the same man makes a second gruesome discovery, Smith's senses are on high alert.
When the dogwalker stumbles upon a third brutally murdered woman, Smith knows there's more to this meek-mannered dog lover than meets the eye.
But no matter how deep he digs, Smith can't find anything that links him to any of the victims.
Is it really a case of bizarre coincidence, or is the dogwalker going to be the one who finally outsmarts Detective Sergeant Jason Smith?
What readers are saying about THE DOGWALKER
I really can't say how much I look forward to reading Stewarts books . There's a warmth and depth of characters, always a cracking plot and that special something. I want to race through them but at the same time savour them like a good wine as I don't want them to end. – Misfits Farm
Very twisty and gripping. I do hope there is more to come. I love this series. 5*. – Sue W
Book Twenty Three, and Cor Blimey!!!! This book has lots of almighty twists that I didn't see coming. – Booklover Bev
I read a lot of crime fiction and think I am an expert in detection but this riveting plot had me baffled and got me thinking. It's intricate, gripping and full of surprises and suspense. – Carol S

Stewart Giles – Author Bio
After reading English at 3 Universities and graduating from none of them, I set off travelling around the world with my wife, Ann, finally settling in South Africa, where we still live.
In 2014 Ann dropped a rather large speaker on my head and I came up with the idea for a detective series. DS Jason Smith was born. Smith, the first in the series was finished a few months later.
3 years and 8 DS Smith books later, Joffe Books wondered if I would be interested in working with them. As a self-published author, I agreed. However, we decided on a new series – the DC Harriet Taylor: Cornwall series.
The Beekeeper was published and soon hit the number one spot in Australia. The second in the series, The Perfect Murder did just as well.
I continued to self-publish the Smith series and Unworthy hit the shelves in 2018 with amazing results.  I therefore made the decision to self-publish The Backpacker which is book 3 in the Detective Harriet Taylor series which was published in July 2018.
After The Backpacker I had an idea for a totally new start to a series – a collaboration between the Smith and Harriet thrillers and The Enigma was born. It brought together the broody, enigmatic Jason Smith and the more level-headed Harriet Taylor.
The Miranda trilogy is something totally different. A psychological thriller trilogy. It is a real departure from anything else I've written before.
The Detective Jason Smith series continues to grow. I also have another series featuring an Irish detective who relocated to Guernsey, the Detective Liam O'Reilly series. There are also 3 stand alone novels.
Twitter: @stewartgiles