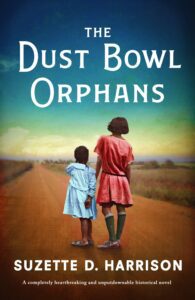 1935 Faith and her sister Hope are separated from their parents and brother just as they embark on a journey to what they hope will be a more proseperous life in California. They are rescued by a white family but skin colour keeps them segregated and tarnishes the relationship. In the present day, Zoe is adjusting to divorced life whilst preparing for an exhibition. She spots a photo of two girls from the 1930s and one looks just like her…
The Dust Bowl Orphans is a dual timeline novel set in America in the 1930s and present day. Our knowledge of the past timeline give us insights into the present day revelations.
This isn't an easy book to read or enjoy. The relentless racism and segregation of the 1930s is ugly and repulsive. To think this was acceptable is disgraceful and difficult to imagine for a modern audience. Yet it is so realistic and vivid so I love how the girls' voices shine through this book and reflects the horror of their experience.
The youth and vulnerability of Faith and Hope make the readers instantly sympathise with their predicament. The callous racism they endure is heartbreaking which contrasts with the continued and more insidious racism that Zoe face in the present day. Zoe's tragic personal past really broke my heart and I felt such anger, almost hatred, towards her vile husband.
The Dust Bowl Orphans is a wonderfull evocative book about the African American experience in the 1930s, with implied political comment about racism today. I have previously reviewed The Girl At The Back of The Bus by Suzette D. Harrison.

The Dust Bowl Orphans book description:
The dust cloud rolls in from nowhere, stinging our eyes and muddling our senses. I reach for my baby sister and pull her small body close to me. When the sky clears, we are alone on an empty road with no clue which way to go…
Oklahoma, 1935. Fifteen-year-old Faith Wilson takes her little sister Hope's hand. In worn-down shoes, they walk through the choking heat of the Dust Bowl towards a new life in California. But when a storm blows in, the girls are separated from their parents. How will they survive in a place where just the color of their skin puts them in terrible danger?
Starving and forced to sleep on the streets, Faith thinks a room in a small boarding house will keep her sister safe. But the glare in the landlady's eye as Faith leaves in search of their parents has her wondering if she's made a dangerous mistake. Who is this woman, and what does she want with sweet little Hope? Trapped, will the sisters ever find their way back to their family?
California, present day. Reeling from her divorce and grieving the child she lost, Zoe Edwards feels completely alone in the world. Throwing herself into work cataloguing old photos for an exhibition, she sees an image of a teenage girl who looks exactly like her, and a shiver grips her. Could this girl be a long-lost relation, someone to finally explain the holes in Zoe's family history? Diving into the secrets in her past, Zoe unravels this young girl's heartbreaking story of bravery and sacrifice. But will anything prepare her for the truth about who she is…?
A devastating, completely captivating story of family torn apart, fighting to be reunited. Fans of Orphan Train, Before We Were Yours and Where the Crawdads Sing will never forget this powerful story of survival.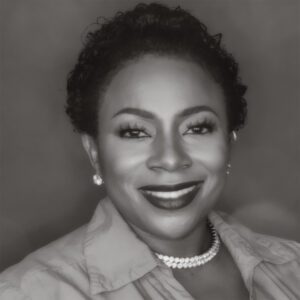 Author Bio:
Suzette D. Harrison, a native Californian and the middle of three daughters, grew up in a home where reading was required, not requested. Her literary "career" began in junior high school with the publishing of her poetry. While Suzette pays homage to Alex Haley, Gloria Naylor, Alice Walker, Langston Hughes, and Toni Morrison as legends who inspired her creativity, it was Dr. Maya Angelou's I Know Why the Caged Bird Sings that unleashed her writing. The award-winning author of Taffy is a wife and mother of two teens, and she holds a culinary degree in pastry and baking. Mrs. Harrison is currently cooking up her next novel…in between batches of cupcakes.
Buy Link: