Abi and Jo have been friends since school. Abi's life is set to change as her son goes off to college and Jo is ready to support her at this difficult time. But Jo has plans to move her own life forward and it involves Ali's ex making her love interest Tom jealous…
The Ex Between Us is a domestic drama and psychological thriller set in America. It centres around female friendship, unrequited love, and facing the future.
The two main characters Ali and Jo are firm friends but they have overcome issues that threatened their friendship in the past. In their teens, Jo was mad with unrequited love for Callan but Ali slept with him during a drunken party and became pregnant. Now they are a foursome of friends and Jo has set her sights on Tom so uses Callan to make him jealous. Meanwhile Ali has the chance of a new relationship.
In a separate plotline, Jo's property is being vandalised and Ali's work is being sabotaged. They feel threatened and anxious which was very easy to relate to. Two mean girls from the past are the main suspects but the friends need to find proof as the incidents escalate. There is plenty of mystery, and the drama and thriller elements are maintained until the end.
The book is mostly written from three alternating perspectives: Ali and Jo in the present day and Jo in the past. All are written in the first person so we experience their emotions directly. The final quarter of the book was packed with twists, some of which I anticipated and others that surprised me completely.
The Ex Between Us was thoroughly entertaining.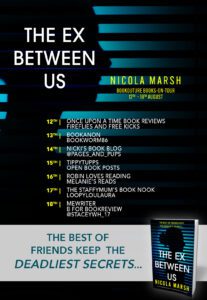 MEDIA PACK
Book: THE EX BETWEEN US
Author:  NICOLA MARSH 
Pub Day: AUGUST 12th 2022
Buy Links: 
About the Book: 
You can always trust your friends. Can't you?

Abi is starting a new chapter of her life. Her son is leaving for college, she has her dream job and she is finally ready to find love again after her relationship with her ex Cal has ended.

Jo has been by Abi's side for years. They've navigated all of life's ups and downs together. Even when Abi betrayed Jo with Cal all those years ago, she forgave her and the three remain close.

So when Abi starts dating again, Jo and Cal begin to spend more time together. But soon Jo receives threatening messages telling her to stay away from him. And when Abi comes to her terrified, clutching a note that says "I want your life," it becomes clear that someone wants to cause the friends harm.

Because in Jo and Abi's close-knit circle someone has been living a lie for years and it's about to come to light. But when it does, who will make it out alive?


An utterly addictive psychological thriller which is packed with twist after twist from the USA Today bestselling author of My Sister's Husband. Perfect for fans of K.L. Slater, The Wife Between Us and Gone Girl.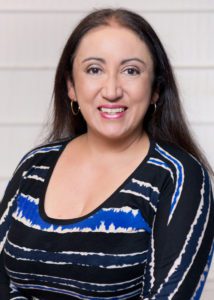 Author Bio
USA TODAY bestselling & multi-award winning author Nicola Marsh writes page-turning fiction to keep you up all night.
She has published 80 books, sold over 8 million copies worldwide and been translated into 25 languages.
She currently writes contemporary romance and domestic suspense. You can find some of her series romance under the pseudonym Nikki North.
A physiotherapist for 13 years, she now adores writing full time, raising her two dashing young heroes, sharing fine food with family and friends, barracking loudly for her beloved North Melbourne Kangaroos footy team, and her favourite, curling up with a good book!
Social Media