The Merritt family welcome foreign exchange student Tanya into their home and family. But while mum Natalie sees her as their lost daughter, Paige instantly dislikes her and disbelieves her story about her background. Who is Tanya really?
The Family Guest is a psychological thriller and family/domestic drama set in LA.
The Merritts lost their eldest daughter two years ago but now offer her room to an exchange student from the UK. Paige and Will are instantly suspicious of Tanya but their parents are completely enamoured by her. Tanya is throughly unpleasant to Paige and I was desperate for her to be unmasked: who is she and why is she there? I felt that Natalie uses the trauma of losing her daughter to excuse her terrible parenting of the younger two.
The book is written from the first person perspectives of mum Natalie and daughter Paige. Both women have experienced tragedy in the form of Anabel's death. Natalie has been keeping secrets for her entire marriage, even her age is a lie. Paige is experiencing typical teen angst about spots, first boyfriends and college applications. I liked the way that her viewpoint is written in a much younger voice which felt authentic.
I was immersed in this story and felt so sad for Paige as she deals with the usual teen issues but also the death of her sister and the arrival of the exceedingly bitchy Tanya. My sympathy for Natalie was counteracted by her abysmal parenting and I wanted to yell at her to put her kids first and stop being selfish! Tanya was a great character to love to hate whilst Will is delightful and steals every scene he's in. Secrets and lies are gradually revealed and I couldn't guess the twists.
The Family Guest is a tense thriller with two strong narrators, one you'll like and one you won't!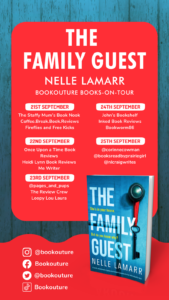 The Family Guest by Nelle Lamarr
I've never met her before, but I know who she is. Because our new guest is the spitting image of the daughter I lost. Long blonde hair. Sparkling dark eyes. Perfect pearly-white teeth. And that's exactly why I invited her into our home.
From the moment our exchange student Tanya arrives, I feel like my daughter has come back to life. With her brown eyes and slender frame, she looks so much like Anabel that sometimes I can almost pretend she didn't die in that tragic accident.
Tanya really is the perfect guest – kind, polite, and always happy to help me in the kitchen. At last, a member of the family who compliments my beautiful house and enjoys my homemade dinners. And when she asks questions about my life, I feel I've finally found someone I can confide in.
My younger teenage daughter, Paige, isn't so happy about our guest. She thinks it's strange that Tanya looks like Anabel, and she hates it when she wears her sister's old clothes. And now she's convinced herself that Tanya isn't who she says she is.
But I learnt a long time ago that it's best not to ask questions you don't want to know the answer to.
And while I'm growing suspicious that our new guest has a secret, I'm certain that it's nothing in comparison to mine…
The absolutely unputdownable, page-turning and twisty psychological thriller that will have you guessing until the very last page. Perfect for readers who love gripping suspense and fans of Freida McFadden's The Housemaid, The Girl on the Train and Colleen Hoover's Verity.
About the author
Nelle Lamarr is the pen name for Nelle L'Amour, a New York Times and USA Today bestselling author, who has sold over 350,000 books worldwide. Her books feature flawed, complex characters and nail-biting twists you won't see coming. A former executive in the entertainment industry, she lives in Los Angeles with her Prince Charming-ish husband, beautiful twin princesses, and a bevy of royal pain-in-the-butt pets. When she isn't writing, you can find her reading gripping thrillers by her favorite authors with a cup of coffee or glass of wine.
Author social media
Facebook URL
Instagram URL
Twitter URL