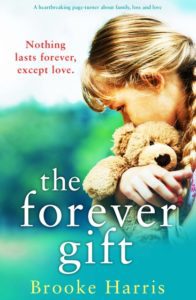 Kayla is a typical teenager with a love of basketball. Her world revolves around the friends and enemies of school life and her sports passion. But she has been hiding a secret pain in her leg.
Cancer.
At only 15 years old.
Devastating for Kayla but with huge impact for her family too. Her parents Heather and Gavin split up years ago but have remained friendly. Now her dad is married to Charlotte and they have a daughter together, Molly.
Both mothers are determined to try to protect their daughters but can they do it at the expense of the other? Molly may be a match so could help Kayla's treatment but the process is painful. Gavin is stuck in the middle, wanting to look after both girls and trying to negoatiate relationships with his wife and his ex.
The Forever Gift is written from the narrative perspectives of Heather, Chatlotte and Kayla. This is a clever device to show the different viewpoints and challenge your own thoughts on what you think you would do in similar circumstances.
The situation and dilemmas facing the parents are heartbreaking and author Brooke Harris has dealt with the issue of childhood cancer with great sensitivity. It is so easy to get caught up in the plot and feel an emotional connection with the characters.
I fully admit that I would usually not choose this type of book as, since becoming a parent, tales of sick children are almost unbearable to read. However, I am glad that I read The Forever Gift as the author has written a truly beautiful book that is full of hope and love despite the unfolding tragedy.
I defy anyone to manage to read the final quarter of this book without crying!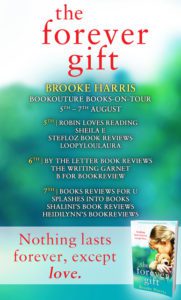 The Forever Gift by Brooke Harris
I remember you learning to ride a bike, the first time you shot a goal with a basketball… and the first time I realised something was wrong. I look at you, my daughter, my beautiful sparky daughter. I would do anything to keep you safe.
Heather's beloved daughter, Kayla, is her world. She is fifteen, a brilliant basketball player and a fierce friend.
Heather and Kayla have always had a special relationship. For so many years it was just the two of them, watching Friends, baking cupcakes and laughing together. But now Kayla knows her time is short, and she wants to give something back to the mother she loves more than anyone else in the world. A gift that will change Heather's life.
With just a handful of days left, Kayla will need help from everyone around her to make this last surprise happen. Along the way, the people whose lives have been touched by Kayla's light will be changed by her loss, and by her plan for Heather. And as Heather's whole world threatens to fall apart, could Kayla's forever gift be the key to piecing her life back together?
An absolutely unputdownable, heartbreaking and ultimately uplifting novel about motherhood, family and how far we go to protect those we love. Perfect for fans of Diane Chamberlain, Jill Childs, and Kerry Fisher.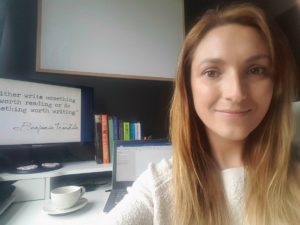 About the author
USA Today bestselling author Brooke Harris is undoubtedly a bibliophile. She is proud to be someone who opens the middle pages of a book and inhales deeply.
Brooke loves all forms of art; painting, playing piano, crafting, but, her greatest love is stories. Brooke writes heart-breaking and emotionally led fiction but always with undertones of hope and positivity because Brooke firmly believes that darkness only lasts so long before light follows.
Brooke lives in county Kildare, Ireland with her husband and five young children. She is a keen supporter of mental health charities and creating a greater understanding of mental illness.
Brooke writes women's fiction for Bookouture. She also writes psychological suspense for Lake Union as Janelle Harris.