2015: Anna, moves to Cornwall to oversee as glamping site that is bitterly unpopular with the local community. 1815: a young woman griefstricken on a battlefield is brought to Cornwall to work as a French maid. Two women, two centuries apart, two lives connected…
The Forgotten Maid is a dual timeline book set in Cornwall in 1815 and 2015.
Anna has a mysterious past: she is getting strange messages so there are secrets which overshadow her life. Meanwhile she is dealing with an angry village who reject her attempts at friendships due to her links to the unwelcome glamping site. Anna distracts her mind from the unpleasantness by volunteering at a local stately home, throwing herself into the character of a French maid.
Two hundred years ago, Thérèse's past is filled with sadness. Orphaned and now her beloved brother is dead on the battlefield. An artist rescues her and she becomes his muse but to save her reputation she is sent to his friends in Cornwall. A stranger is a strange land, surrounded by a language she barely understands.
Both women have an emotional pull for the reader due to the events in their lives. The prologue hints at drama and danger which then sets an underlying tension as we wait for the plot to unfold. The women are uprooted and socially isolated which creates a sadness as they look for solace.
The sweeping Cornish landscape and the grandeur of the stately home help to bring the setting and plot to life. The book develops at a reasonable pace, neither slow not too fast, giving us time to get to know the characters and their situation yet moving the story along.
The Forgotten Maid is an entertaining and emotional book. I enjoyed the mix of historical and present day and look forward to reading more books by this author.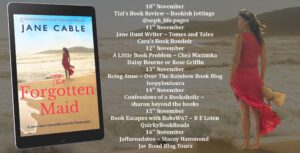 The Forgotten Maid book blurb
A captivating dual timeline romance set in Cornwall! Perfect for fans of Sarah Burton, Stacey Halls, Jessie Burton and Kate Mosse.
Two centuries apart, two lonely women seek a place to call home…
Cornwall, England, 2015
Nomadic project manager Anna Pritchard has arrived in the village of Porthnevek to oversee the construction of a trendy new glamping site. But with many members of the local community strongly opposed to the development, she quickly finds herself ostracised and isolated.
Seeking to ease her loneliness, Anna begins volunteering at a nearby National Trust house in Trelissick, once owned by the aristocratic Daniell family. In her new role, Anna soon feels her attachment to both Porthnevek and Trelissick deepening. And as she spends more and more time steeped in local history, it seems that the past and the present are beginning to collide…
Belgium, 1815
After losing her brother in the Battle of Waterloo, French army seamstress Thérèse Ruguel is taken to London by war artist Thomas Chalmers, becoming his reluctant muse. But with Thomas's mother unhappy with the arrangement, Thérèse is soon sent to Cornwall as a lady's maid to Elizabeth Daniell, a kindly relative of the Chalmers family.
Able to speak only a little English — and with the other servants suspicious of her — Thérèse feels lost and alienated. And when she discovers her brother may still be alive, she must decide whether to continue with her new life in England, or brave the dangerous journey back to her homeland…
What became of Thérèse? Can Anna unearth the ghosts of the past?
And has Anna finally found where she belongs…?
THE FORGOTTEN MAID is a beautiful time-shift romance set in Cornwall between the Regency era and the modern day. It is the first book in the Cornish Echoes Dual Timeline Mystery series.

Only 99p for a limited time.

Author Bio –
Jane Cable writes romance with a twist for Sapere Books, and The Forgotten Maid her first novel set in her adopted county of Cornwall. She is lucky enough to have been married to the love of her life for more than twenty-five years, and loves spending time outdoors, preferably close to the sea on the wild and rugged north Cornwall coast.
She also writes emotional women's fiction as Eva Glyn, published by One More Chapter.
Social Media Links –