TRIGGER WARNING: Nazi brutality and the Holocaust
Trudi's family are sheltering a Jewish family in their attic. The house is raided and Trudi is entrusted with keeping the two young girls safe. Trudi decides she wants to do more to fight against the occupation of her country and the persecution she witnesses on the streets. She joins the resistance…
The Girl from the Resistance is an historical novel set in the Netherlands during WW2. It is actually based on a true story which makes it even more poignant.
Trudi is a young woman in occupied Netherlands in 1941. She is revolted by the brutality she witnesses and vows to help defy the Nazis in any way she can. She is given sole charge of two young Jewish girls after their parents sacrificed themselves so that they could escape. Once hidden at a safe location, Trudi begins to look for other ways to resist and joins a local group, dropping off information and ammo before moving on to acts of sabotage.
The book is written in the third person to show Trudi's journey into danger. There are several big events that see Trudi risk her life and these are dramatic and tensely described. Friendship and hope are important themes in this book which also does not shy away from the negative choices people made in the face of the Nazi occupation. It would be easy to condemn collaborators but this book shows that individuals had genuine reasons for doing so.
I believe that this is the first book in a new series about three real life women. This makes me wonder if we will see more of Trudi's life in later books and I would love to know if little Rosy and Louisa are ever reunited with their parents or if they perished in a camp.
The Girl from the Resistance is an engaging and dramatic historical book about bravery in the face of constant danger.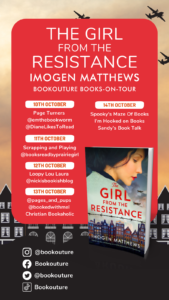 The Girl from the Resistance: Based on a true story, a heartbreaking and completely gripping World War 2 historical novel (The Dutch Girls Book 1)
1941, Nazi-occupied Holland. Trudi can hear the muffled sobs of two heartbroken little girls as they peer wide-eyed from their hiding place behind the bookcase. Rosy and Louisa's parents have been dragged away by soldiers. Now Trudi is the only one who can keep them safe…
When Nazis break down the front door of eighteen-year-old Trudi's home and seize the Jewish couple hiding in her attic, she's devastated, and is suddenly solely responsible for their two innocent children. The whispered rumours about the resistance are her only hope. A man called Frans and his cousin Piet risk their lives every day, helping scared and abandoned Jewish children escape into the countryside. Under the cover of night she races to beg for their help.
When the girls are offered a safe house, Trudi is relieved. But with soldiers on every corner of the cobbled streets, getting there will be extremely dangerous… she must dress up in a German nurse's uniform and convince anyone who asks that she is transporting two children to hospital.
Trudi will have to give up everything to protect Rosy and Louisa. She will have to lie to her friends and family, and learn to fire a weapon that could take someone's life. The only consolation is Piet's dark eyes and handsome face as he stands beside her helping to plan her next steps.
But Trudi suspects someone close to her told the Nazis about the hiding place in the attic, and they'll stop at nothing to make sure the girls do not escape…
A heartbreaking, inspiring and uplifting tale about the sacrifices we're prepared to make for innocent people. Fans of Mandy Robotham, The Nightingale and All the Light We Cannot See will love this unforgettable historical series based on true stories of the heroic women of the Dutch resistance.

About Imogen Matthews
Imogen Matthews writes novels based on true stories about the Netherlands during the German occupation in World War 2. Some stories she discovered by chance, others are based on her Dutch mother's own experiences of hardship and survival during the Hunger Winter of 1944-45.
Her first novel, The Hidden Village, is set in the Veluwe woods, a beautiful part of Holland that Imogen has visited frequently over the past 30 years. It was in these woods that she discovered the story of the real hidden village which provided shelter in underground huts for Jews during WW2. Imogen retells the story of the hidden village with characters drawn from real life and from her imagination.
Within weeks of publication in 2017, The Hidden Village became an international bestseller, ranking at the top of a number Amazon's most-read book lists.
Following on from The Hidden Village comes Hidden in the Shadows, which has the pace of a thriller yet is also a love story. It tells the story about two young people who are brutally torn apart and must find a way to be together against all odds.
Imogen's third WW2 novel, The Girl Across the Wire Fence, is set in Amersfoort, Netherlands, and is based on the unforgettable tale of two young lovers who risked everything to keep hope alive in the very depths of hell – the little known Dutch concentration camp called Kamp Amersfoort.
Imogen's WW2 novels are published by Bookouture, a digital imprint of Hachette.
Author social media
Facebook: @theHiddenVillagenovel
Twitter: @ImogenMatthews3