TRIGGER WARNING: war crimes including rape
1940s: Lidia is a non practising Jew in Venice but she is forced to flee for her life when her father is rounded up and deported. Her only hope is to fight the Nazis and Fascists. 2010, Charlotte's grandmother dies, leaving behind possessions that suggest a secret past…
The Girl From Venice is a dual timeline historical novel set in the 1940s and 2010.
Lidia's father cannot believe in the approaching danger as the Italians switch sides during WW" and battle each other as well as the Nazis. He and Lidia stay in their home until it is too late to escape and he is deported. Yet Lidia still clings to the hope that he is being well treated in a camp. Decades later, Charlotte embarks on a mission to find out the truth about her grandmother's past but also needs to heal her own heart that is dealing with a feckless ex and the grief at her grandmother's death.
The book doesn't shy away from the horrors of war. We witness the brutality that was experienced on all sides, including Lidia's emotional reaction to kiling for the first time. In light of the emotional depth in the 1940s timeline, I personally found the sex scenes in the present day a little unnecessary. I expect that they were to contrast against the brutal rape scenes but I thought they detracted from the plot.
The book is written from the first person viewpoints of both Lidia and Charlotte. I was more emotionally affected by Lidia's timeline but Charlotte's provided a balance to the strong emotion as she gradually discovers the truth. I enjoyed the unfolding mystery as we charted the life of Lidia and tried to confirm the links with what Charlotte is told. The scenery and character descriptions were vivid and brought the plot to life. I felt like I was immersed in the Italian setting alongside the narrators.
The Girl From Venice is a vividly imagined historical novel.

The Girl from Venice
1943
Lidia De Angelis has kept a low profile since Mussolini's laws wrenched her from her childhood sweetheart. But when the Germans occupy Venice, she must flee the city to save her life.
Lidia joins the partisans in the Venetian mountains, where she meets David, an English soldier fighting for the same cause. As she grows closer to him, harsh German reprisals and Lidia's own ardent patriotic activities threaten to tear them apart.
Decades later
While sorting through her grandmother's belongings after her death, Charlotte discovers a Jewish prayer book, unopened letters written in Italian, and a fading photograph of a group of young people in front of the Doge's Palace.
Intrigued by her grandmother's refusal to talk about her life in Italy before and during the war, Charlotte travels to Venice in search of her roots, There, she learns not only the devastating truth about her grandmother's past, but also some surprising truths about herself.
Purchase Link – https://mybook.to/girlfromvenicesocial

Author Bio –
Siobhan Daiko writes powerful and sweeping historical fiction set in Italy during the second World War, with strong women at its heart. She now lives near Venice, having been a teacher in Wales for many years.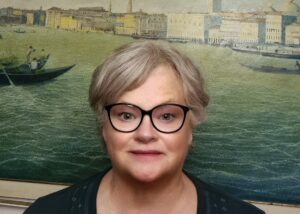 Social Media Links –