1942: Jewish Amelia is sent to a concentration camp and she begins an unlikely romance with a guard, Charlie, which endangers them both. Present day: Amelia is in her nineties and her health is failing. She gives her diary to her granddaughter Emma…
The Girl With The Diary is the first book in a trilogy of historical novels set in the Theresienstadt concentration camp. I will be reviewing the other books next month.
This book is written in the present day as well as during WW2. The two timelines alternate every chapter and are given equal weighting. However, it is the young Amelia's story that really gripped me. Her heartbreaking experience glimmers with the tiny hope of her new found love.
The brutality of the camp is explicitly described which is upsetting but adds an authenticity to the plot. Love in unlikely situations is present in both timelines and shows the strength of the human spirit. There is plenty of emotion so be warned that you may need tissues!
Initially I felt a little impatient as I wanted to find out Amelia's past quicker. However, Emma's character in the present day is easy to identify with. I loved being taken on the journey along with her as she reads the diary, discovering the awful things that her grandmother experienced.
The Girl With The Diary is a completely captivating novel and I look forward to reading the rest of the trilogy.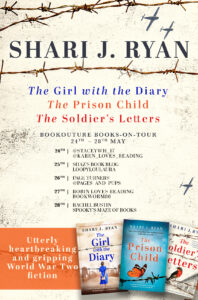 Buy Links:

About the Books: 
The Girl with the Diary:
The worn leather-bound diary, tied with a red ribbon, has hidden the truth for seventy years. The spine crackles as she opens it,reading the long-forgotten words of her grandmother. "What if you never come back? What if you die trying?"
Nazi-occupied Prague,1942: Amelia is hiding in her closet when flashlights blind her and she's captured by the SS. Out on the cobblestone street, her heart shatters as her mother is shot before her eyes. She is shoved onto a freight train with hundreds of others—hours pass as they travel in darkness.
Arriving in a concentration camp, Amelia fears for her life when she is led to a block by a soldier. He is her enemy, yet he secretly passes her a piece of bread; an act that saves her.
They are meant to despise one another, but Amelia and Charlie are powerfully drawn to each other. Amelia sees how Charlie risks everything to save prisoners from deportation—and she sees the kindness in his eyes.
Amongst so much tragedy, falling in love is a miracle. Yet, one day, Charlie utters those miraculous words. "I'm in love with you. To everyone else, we're wrong, but what does that matter when nothing in this world is right?"
But under the all-seeing gaze of the guards and endless watchtowers, there is only so long they can keep their secret—and the very act of loving each other endangers their lives. Will they remain loyal to each other in the face of death? And when they finally say goodbye, will it be by choice or by force?
Fans of The Tattooist of Auschwitz, The Choice, and Orphan Train will be totally swept away by this World War Two heartbreaker which shows that, even in hell, love can bloom.
This book was previously published as Last Words.
The Prison Child
How will we get by the guards? It seems impossible. Yet we will be dead by the end of the week if we don't—my precious girl and I have nothing to lose by trying.
Nazi-occupied Czechoslovakia, 1943: In Theresienstadt concentration camp, a brown-eyed baby girl is born in darkness, surrounded by barbed wire. The innocent new-born has no hope of surviving—unless, by some kind of miracle, she is able to escape…
In New York, over a decade later, Annie listens to her mother and father's urgent whispers on her twelfth birthday. "They're going to find out that she doesn't belong to us. She'll be taken away."
The little girl's world crumbles. That day, her search for answers begins…
Everything in Annie's life is a lie. As she grows older, she pieces together the fragments of her past. With a broken heart, she uncovers a story of bravery in the face of evil, hope amongst darkness, and forbidden love—the kind of love that takes immense courage.
Will the secret of who she really is come to light? And can she ever be reunited with her birth family—if they're even alive?
Fans of The Tattooist of Auschwitz, The Choice, and Orphan Train will be utterly glued to this unforgettable tale. It may break your heart, but it will piece it back together…
This book was previously published as The Other Blue Sky.
The Soldier's Letters
"Survive for as long as you can, fight until you can't fight any longer, and if this war ever ends, I want you to run as far from here as you can and never look back…"
Nazi-occupied Prague, 1941: On a foggy winter's day, a solider called Charlie is ordered to murder an elderly Jewish woman. He refuses, but that doesn't stop another Nazi shooting her. As the woman's daughter cries out, "Mama, no, please don't leave me!" Charlie knows that he is not a killer. He vows to save as many lives as he can.
In Theresienstadt concentration camp, he sees the same sapphire-eyed girl with beautiful auburn hair. Her name is Amelia. He escorts her to Block B and memorizes her prison number. They are meant to be enemies yet, in that instant, he falls in love.
Yet in such hell, love isn't meant to exist and they are destined to be torn apart. Despite this, Charlie never stops looking for Amelia, writing letters to her and keeping them safe. But what are the chances of her surviving the war? Will the soldier's letters remain unread forever?
Fans of The Tattooist of Auschwitz, The Choice, and Orphan Train will be absolutely gripped by this heart-wrenching World War Two page-turner––a story of forbidden love, and its power to survive the impossible.
This book was previously published as Unspoken Words.

Author Bio 
Shari J. Ryan is a USA Today Bestselling Author of Women's Fiction, WWII Fiction, and 20th Century Historical Fiction with a focus on the Holocaust and Pearl Harbor.
Shortly after graduation from Johnson & Wales with a bachelor's degree in marketing, Shari began her career as a graphic artist and freelance writer. She then found her passion for writing books in 2012 after her second son was born. Shari has been slaying words ever since.
With two Rone Awards and over 125k books sold, Shari has hit the USA Today Bestseller List, the Amazon's Top 100, Barnes & Noble's Top Ten, and iBooks at number one. Some of Shari's bestselling books include Last Words, The Other Blue Sky, Unspoken Words and A Heart of Time.
Shari, a lifelong Boston girl, is happily married to her personal hero and US Marine and they have two wonderful little boys. For more details about her books, visit: www.sharijryan.com
Social Media