TRIGGER WARNING: stillbirth, mental illness
Jenna and her husband move to a new house. New house, new baby! But after the birth, Jenna is struggling physically  and emotionally while her husband claims their baby was stillborn…
The Homemaker is an intense psychological thriller set in America.
Jenna and Oliver are excited about their new home. Jenna is a little worried about her uenxepcted pregnancy but delights in her new son River. Except her husband says River didn't survive the birth and she is suffering from post partum pyschosis. Ginger's narrative has a focus on her empty nest and there are suggestions about secrets and lies that she may be harbouring. She is jealous of Jenna's blossoming friendship with Peyton.
The book is written from three perspectives Jenna and her neighbour Ginger a year ago and Jenna in the present day. These skewed, vulnerable and unreliable narratives make it difficult to guess the truth. The strength of the emotion and the content is difficult to read at time as it is very powerful yet utterly heartbreaking.
The style of writing was easy to read and I felt engaged with Jenna's story as I tried to work out what was happening. There were plenty of hints and twists to keep me guessing and interested in the plot.
The Homemaker is an emotionally intense but enjoyable psychological thriller.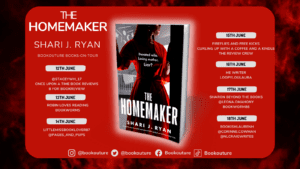 MEDIA PACK
Book: The Homemaker
Author: Shari J. Ryan 
Pub Day: June 12th 2023
About the Book: 
I pull back the blanket to take another peek at my beautiful baby boy. My heart flatlines. He isn't there. "Where is he?" I cry, my whole body trembling. But my husband just shakes his head. "Darling… we don't have a baby."
What is he talking about? Stumbling to my feet, I look frantically at the highchair, the playmat in the corner, the sofa. I need to find my little boy.
Limbs like ice, I rush toward the stairs, shouting my son's name. But my husband grabs my arms and gently reminds me there is no baby here.
I can't listen. I don't understand how our child isn't in our home. I don't know who could have taken him. I just know I have to find him.
Climbing the stairs two at a time, my hand is already stretching toward the nursery door, but my husband overtakes, blocking my way.
He forces me to face him. I think I can hear the baby mobile over the crib. I can practically smell the newborn smell. But my husband sighs and shakes his head.
He says it again, firmly this time, as a tear tracks down my cheek: "We don't have a baby."
I blink rapidly, my breathing ragged. I think he expects me to agree. But I know that my son is real. I can feel his weight in my arms. And I will stop at nothing to get him back…
An absolutely gripping psychological thriller that will have your heart racing. Prepare yourself for jaw-dropping, mind-blowing twists! Perfect for fans of addictive page-turners like The Housemaid, The Family Across the Street and The Family Upstairs.

Author Bio 
Shari J. Ryan is a USA Today Bestselling Author of Women's Fiction, WWII Fiction, and 20th Century Historical Fiction with a focus on the Holocaust and Pearl Harbor.
Shortly after graduation from Johnson & Wales with a bachelor's degree in marketing, Shari began her career as a graphic artist and freelance writer. She then found her passion for writing books in 2012 after her second son was born. Shari has been slaying words ever since.
With two Rone Awards and over 125k books sold, Shari has hit the USA Today Bestseller List, the Amazon's Top 100, Barnes & Noble's Top Ten, and iBooks at number one. Some of Shari's bestselling books include Last Words, The Other Blue Sky, Unspoken Words and A Heart of Time.
Shari, a lifelong Boston girl, is happily married to her personal hero and US Marine and they have two wonderful little boys. For more details about her books, visit: www.sharijryan.com
Social Media