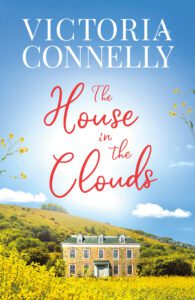 Edward Townsend and Abigail Carey are totally different in personality and their outlook on life. But both fall in love with Winfield Hall and compete aganst each other at the auction house. Yet they end up sharing the property and making a strange friendship but both are keeping secrets…
The House in the Clouds is the first in a trilogy so don't expect a conclusion! There are plenty of loose ends for development in the next two books.
Two people thrown together by circumstances and secretly vulnerable. Over the course of the book, both Edward and Abigail's personal, professional and family lives are revealed to us. Yet these secrets remain hidden from each other, even as their friendship develops.
The two main characters contrast wonderfully with each other. Edward is a finance man, with his mind on the practical, the safe path, secure investments. Abi is an artist who owned her own company but longs to re-establish her creativity and passion. Both come from dysfunctional families which has shaped their outlook but sent them in different directions.
The style of writing is warm and compassionate whilst dealing with emotionally heavy topics as we discover the sadness that haunts both Edward and Abi. There is also humour in the sibling relationship between Abi and her sister which lightens the gentle mocking (plus it feels very realsitic as it resembles the way my sister and I act!)
The House in the Clouds is an enjoyable and gentle book about staying true to yourself and finding contentment.

The House in the Clouds
Artist Abigail Carey has always dreamed of a life in the country and, when Winfield Hall comes up at auction, she's desperate to make the place her home. The only trouble is that businessman, Edward Townsend, has exactly the same idea.
With its position high on the Sussex Downs, Winfield is a stunning house, but it hasn't been a home for a long time and there's a lot of work to do to restore it to its former glory. It's going to take a lot of time and money, so Edward and Abi decide to take a risk and share the house, each living in their own wing.
But can these two strangers agree on a vision that suits them both? And will free-spirited Abi ever get the rather reserved Edward to reveal the secret he's been hiding for so long?
The House in the Clouds is the first novel in a brand new trilogy from the bestselling author of The Rose Girls and The Book Lovers series.

Purchase Links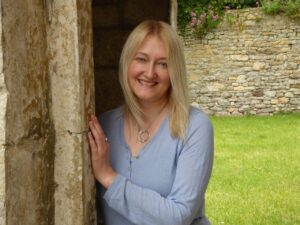 Author Bio –
Victoria Connelly lives in a 500-year old thatched cottage in rural Suffolk with her artist husband, a springer spaniel and a flock of ex-battery hens. She is the million-selling author of two bestselling series, The Austen Addicts and The Book Lovers, as well as many other novels and novellas. Her first published novel, Flights of Angels, was made into a film in Germany. Victoria loves books, films, walking, historic buildings and animals. If she isn't at her keyboard writing, she can usually be found in her garden either with a trowel in her hand or a hen on her lap.
 Social Media Links –
Instagram: @victoriaconnellyauthor
Facebook: @victoriaconnellyauthor