Cassie buys a dilapidated old house to restore to glory as a B&B. But a series of suspicious and spooky incidents make her think that someone is trying to force her out of her new home…
The Housekeeper is a psychological thriller set in the UK.
Cassie was recently widowed and wants a fresh start. She leaves London for the country and intends to fully renovate Hindon House. But the lights and electrics are constantly failing despite repeated checks by professionals. She starts to fear that someone doesn't want her to stay in the house but her steely resolve is determined to see the project through.
The book is written in the third person in the present day throughout, with some recollections of Cassie's past. Cassie makes several references to a secret that hints she might have a dangerous streak. I felt desperately sad as her marriage and IVF journey are described as well as her husband's death in a car crash.
The atmosphere is really spooky at times. There is a good tension created as Cassie begins to fear for her life as dangerous incidents start to stack up. I guessed the twist of who but had no idea on why. The front cover offers a clue so don't look too closely… I don't quite 'get' the title but I suppose it could have multiple interpretations.
The Housekeeper has a creepy atmosphere and emotional plot twists.

The Housekeeper
An unwelcome guest?
Still in shock after the tragic death of husband Richie, Cassie Macreddin hopes that her new home, historic Hindon House, is the place where she can heal her pain and hide her secrets.
But Hindon House has secrets of its own…
Cassie soon realises that not everyone is pleased at her arrival and that someone is actively trying to make her leave Hindon House….but who? And why?
As events escalate, Cassie must fight to save her home…and maybe even her life.
Don't miss the brand new thriller by Valerie Keogh! Perfect for fans of Sue Watson, Shalini Boland and K.L. Slater.
 
Author Bio –
Valerie Keogh is the internationally bestselling author of several psychological thrillers and crime series, most recently published by Bloodhound. She originally comes from Dublin but now livesin Wiltshire and worked as a nurse for many years.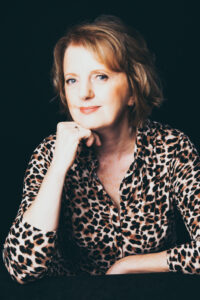 Social Media Links –