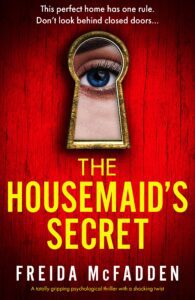 Millie is keeping her past a secret. She starts a new cleaning job but soon fears that her employer is abusive towards his wife. Can she help Wendy to escape? And can she escape her own past?
The Housemaid's Secret is a psychological thriller set in America. This is the second book that I have read by Freida McFadden. The Housemaid had similar huge twists and you should definitely read it. However, the books work as completely separate stand alones.
Millie begins the book by losing her job. She struggles to find new work due to her criminal history so is grateful to find a well paid housekeeping position for a wealthy businessman and his reclusive wife. Milie soon discovers that Wendy is very unhappily married and vows to help her.
There are lots of little hints that Millie has major secrets in her past which allows us to make assumptions and be misdirected. I was rooting for Millie as she struggles to make her way in the world. She helps others who are vulnerable which makes her noble and easy to like. She herself is flawed and at risk due to her financial situation and she believes someone is following her.
Halfway through the book the perspective changes and we see Wendy's viewpoint. This provides a dramatic contrast and plenty of twists. The writing is atmospheric and tense as well as fast paced. I was completely immersed in this book and couldn't out it down: I just had to keep reading and find out what would happen to Millie and Wendy!
The Housemaid's Secret was a spectacular page turner!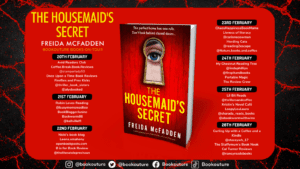 MEDIA PACK 
The Housemaid's Secret: A totally gripping psychological thriller with a shocking twist
"Don't go in the guest bedroom." A shadow falls on Douglas Garrick's face as he touches the door with his fingertips. "My wife… she's very ill." As he continues showing me their incredible penthouse apartment, I have a terrible feeling about the woman behind closed doors. But I can't risk losing this job—not if I want to keep my darkest secret safe…
It's hard to find an employer who doesn't ask too many questions about my past. So I thank my lucky stars that the Garricks miraculously give me a job, cleaning their stunning penthouse with views across the city and preparing fancy meals in their shiny kitchen. I can work here for a while, stay quiet until I get what I want.
It's almost perfect. But I still haven't met Mrs Garrick, or seen inside the guest bedroom. I'm sure I hear her crying. I notice spots of blood around the neck of her white nightgowns when I'm doing laundry. And one day I can't help but knock on the door. When it gently swings open, what I see inside changes everything…
That's when I make a promise. After all, I've done this before. I can protect Mrs Garrick while keeping my own secrets locked up safe.
Douglas Garrick has done wrong. He is going to pay. It's simply a question of how far I'm willing to go…
This absolutely explosive and shockingly twisty sequel to international bestseller The Housemaid will keep you racing through the pages late into the night. Anyone who loves The Perfect Marriage by Jeneva Rose, The Woman in the Window and Gone Girl will be totally hooked! This book can also be enjoyed as a standalone.

About the author
#1 Amazon bestselling author Freida McFadden is a practicing physician specializing in brain injury who has penned multiple Kindle bestselling psychological thrillers and medical humor novels. She lives with her family and black cat in a centuries-old three-story home overlooking the ocean, with staircases that creak and moan with each step, and nobody could hear you if you scream. Unless you scream really loudly, maybe.
To hear Freida talk more about herself in the third person, visit her website: https://www.freidamcfadden.com/
Author social media
Twitter: @Freida_McFadden
Instagram: @fizzziatrist