Another book club choice! I quite like having other people tell me what to read 🙂
Cecilia finds a letter from her husband to be opened only in the event of his death. He is very much alive so she debates with herself whether she should open it or not. Tess' marriage is in tatters when her husband reveals he has fallen in love with her cousin. Rachel is swirling in grief after the death of her husband as well as a rage at the death of her daughter years earlier combined with the announcement that her son's family are moving away.
The Husband's Secret is a book full of domestic drama and devastating secrets.
I felt that the secret was pretty obvious although others in my book club disagreed. I enjoyed seeing how the characters soul search and consider their choices and actions.
The writing is very strong and I felt that the women's voices were easy to discern on the audiobook without doing OTT accents. There is plenty of humour and frank observations: the women are often catty but are covering their own anxieties. This made them more human and authentic in my opinion.
I enjoyed the interweaving of the different characters' lives. However, Tess' plot strand seemed to have the least relevance and I thought it was more padding than plot. However, it did provide hope for Connor who suffers at the hands of other characters over the course of the book.
The epilogue reveals what ifs and more secrets for the past and present. Part of me really liked this for showing the potential and opportunities for the various characters, while another part of me thought it unnecessary.
The Husband's Secret is an enjoyable domestic drama that will have you questioning how you would behave in similiar circumstances.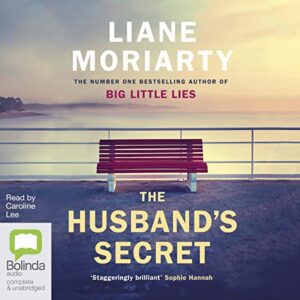 Blurb
At the heart of The Husband's Secret is a letter that's not meant to be read
My darling Cecilia, if you're reading this, then I've died…
Imagine that your husband wrote you a letter, to be opened after his death. Imagine, too, that the letter contains his deepest, darkest secret—something with the potential to destroy not just the life you built together, but the lives of others as well. Imagine, then, that you stumble across that letter while your husband is still very much alive. . . .
Cecilia Fitzpatrick has achieved it all—she's an incredibly successful businesswoman, a pillar of her small community, and a devoted wife and mother. Her life is as orderly and spotless as her home. But that letter is about to change everything, and not just for her: Rachel and Tess barely know Cecilia—or each other—but they too are about to feel the earth-shattering repercussions of her husband's secret.
Acclaimed author Liane Moriarty has written a gripping, thought-provoking novel about how well it is really possible to know our spouses—and, ultimately, ourselves.
About the Author
Liane Moriarty is the bestselling author of nine novels, including 
Apples Never Fall, The Husband's Secret, Big Little Lies

 and 

Nine Perfect Strangers

. Her novels have sold more than twenty million copies worldwide and been translated into over forty languages. 

Big Little Lies

 is now an Emmy- and Golden Globe-winning HBO series, produced by and starring Nicole Kidman and Reese Witherspoon. 

Nine Perfect Strangers

 has been adapted for TV, starring Nicole Kidman and Melissa McCarthy. 

Apples Never Fall 

is currently in production for TV starring Sam Neil and Annette Bening. Liane lives in Sydney with her husband, son and daughter.